Getting our products to Canadians and the world
Getting our products to Canadians and the world
Market access
The world needs it, Canada should provide it. Demand for responsibly-produced energy is growing and this is where we're strong - abundant resources, evolving technology and innovation, and solid leadership in safety and environmental performance.
We support policies that support our access to markets – the people and places that need energy to succeed in Canada and around the world. Infrastructure projects to transport Canadian crude help us compete and grow.
And when we grow, investment in environmental innovation grows too.
Rail
We're going places, thanks to rail. While pipeline capacity is constrained, we need railways to get to the markets that will pay more for our products and keep us competitive with energy companies around the world.
One of our unique competitive advantages is our Edmonton rail terminal, located next to our Strathcona refinery. The terminal is a joint venture operated by Kinder Morgan that started up in April 2015. The facility has capacity to load unit trains of 100 to 120 rail cars per train, and 210,000 barrels per day.
Products pipelines
Over 700 different petroleum products keep North Americans moving. Pipelines help them flow in and out of our refineries in a safe, environmentally friendly way – from the well to the customer.
For example, our Sarnia Products Pipeline transports gasoline, diesel and a significant portion of jet fuel to Toronto Pearson Airport - keeping people, goods and services moving across the Greater Toronto and Hamilton Area.
We are committed to keeping our neighbours, workforce, and environment safe by operating within rigorous protocols and regulations, as well as making critical investments in new technology and integrity management tools.
Damage prevention and safe digging when working near our pipelines
At Imperial, we are committed to ensuring the safety of the communities near our operations. We perform all operations in a safe, responsible manner to protect the public, the environment, and the pipeline.
Imperial pipelines are regulated provincially and must comply with high standards and legal requirements. Contractors and the public must also be aware of right-of-way (ROW) requirements. Existing regulations prohibit the use of excavation equipment near pipelines without the approval of the pipeline owner. Contact your local one call centre through clickbeforeyoudig.com prior to any ground disturbance. You must submit your utility location request at least three full working days prior to starting your project. An Imperial representative will contact you and arrange to mark and locate any Imperial facilities/ pipelines on your property. To protect people and the environment, and to reduce the risk of pipeline damage, provincial laws require anyone planning a ground disturbance or excavation activity near a pipeline or pipeline right-of-way (ROW) to request a pipeline field locate in advance of that activity by using clickbeforeyoudig.com or by calling their local provincial toll-free one-call number.
Clickbeforeyoudig.com is a free program available across North America to request the location of buried utilities, including Imperial's pipelines, prior to ground disturbance. Contractors and the public can visit the online portal to access their province's One-Call center and to submit a locate request. The phone numbers for each Province can also be found at www.clickbeforeyoudig.com.
For your awareness, Imperial's pipelines are identified by permanent above-ground markers or signs at all road, railway and water crossings, though the markers should never be used as a reference for the exact location of the pipeline. Imperial's pipelines have safely operating for many years; however, the depth of these pipelines and other underground utilities can sometimes change over the years due to erosion, previous digging projects or uneven surfaces. That's why it is important to contact your local provincial One-Call service provider, or Imperial directly, at least three (3) days (five (5) days for Ontario) before you do any type of excavation in an area that you know or believe might be on or near an Imperial pipeline and/or ROW.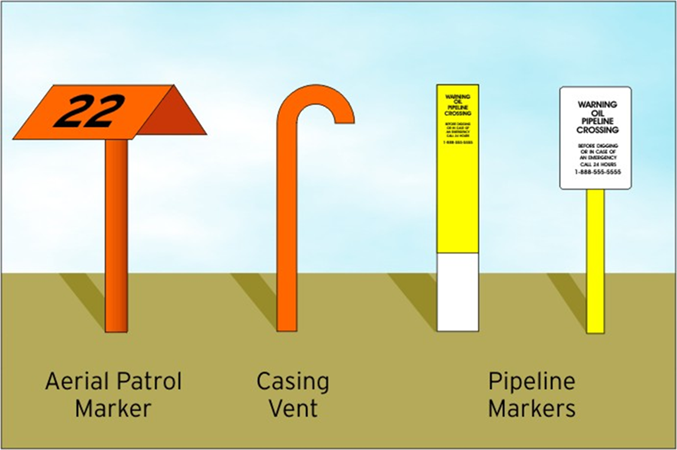 "Activities" that require a locate request include, but are not limited to:
encroaching or crossing the pipeline or within the ROW with services or other utilities
constructing roads, paving, parking, driveways, ditches, railways, installing overhead or underground utilities
ditch clean-outs, fixing or improving in-field drainage, repairing or replacing drain tile or fence
building a berm or removing soil
installing fence posts
altering the land grade or deep tilling the soil
operating non-agricultural equipment or non-passenger vehicles on or over the pipeline or ROW
Engaging with Imperial before your activity could prevent accidents, injuries, or deaths.
The ROW must be kept clear of obstructions to ensure safe access to the pipeline for required maintenance work and in the event of an emergency response. Imperial does not allow for the construction of buildings or foundations within the ROW. Planting of trees and bushes or stockpiling of materials or burn piles are also prohibited on the ROW.
Permission for the activity must be issued by Imperial to the requesting party, and Imperial representatives must be on-site to supervise excavation near the Imperial ROW.
For installations or to operate a vehicle or mobile equipment across the ROW, written permission from Imperial is required. Approval could take up to 21 days, so please plan ahead to avoid a disruption to your work. We can help you avoid problems and delays by:
locating and marking Imperial pipelines
helping obtain written permission for construction/excavation over Imperial pipelines
acquainting others with the 30-metre prescribed/controlled area on either side of the centerline of the pipe, and providing guidelines for excavation and blasting
ensuring an Imperial field representative is on-site during excavation
Please contact Imperial with your specific ROW questions
If you are planning an activity within 30 meters of an Imperial pipeline, such as building a fence, deep tilling, digging a ditch, operating equipment, or other activities, Email thirdpartyrequests@esso.ca in Canada and a member of the Canadian Surface Land Team will be in touch.
Developers: It is important for Municipalities, developers, and landowners to engage with Imperial during the early planning stages of a development project near an Imperial right-of-way. This will allow for sufficient time to ensure our pipelines are appropriately incorporated into the plan and that new development near our facilities meet both the regulatory and Imperial requirements. Imperial's involvement in the planning can help to avoid delays and additional costs. We are happy to meet or discuss with you.
Contact us
Are you a new landowner? Need to update your contact information? Have a question or concern? Below is our non-emergency contact info.
Landowners in Canada
Phone: 1-866-476-2166
Email: CalgaryLandShared@esso.ca
Terminal network
Our coast-to-coast-to-coast terminal network helps us get product to our customers and end-users. Each day, we load more than 1,200 trucks at our terminals with products (gasoline, diesel, jet fuel, etc.) that you use every day, ensuring these products are always available to keep cars moving and planes flying.
We have 21 terminals across Canada, which help ensure reliability of fuel products to numerous regions.