Our history
Canada, as a country, was only 13 years old when the Imperial Oil Company was formed by 16 oil refiners in southwestern-Ontario. As Canada has grown, Imperial has grown with it, sharing its prosperity and weathering the tough times.
Scroll down to view the 135-plus year story of Imperial.
1800s
1880
Sixteen southwestern-Ontario refiners form The Imperial Oil Company in London, Ont., to find, produce and distribute petroleum products in Canada.
1883
Imperial moves its operations to Petrolia, Ont., after lightning strikes its London refinery.
1898
In need of expansion capital, Imperial sells a majority interest to the Standard Oil group in the United States.
1899
Imperial takes over Standard's Canadian assets and moves its head office and operations to Sarnia, Ont.
1900-1950
1907
Imperial opens Canada's first service station in Vancouver, B.C.
1918
Imperial becomes the first company in Canada to adopt a system of joint industrial councils, an innovative approach to labour-management relations.
1920
Imperial Discovers oil at Fort Norman (now Norman Wells), N.W.T., on the Mackenzie River.
1924
Reginal Stratford is hired by Imperial to found the Canadian petroleum industry's first research department.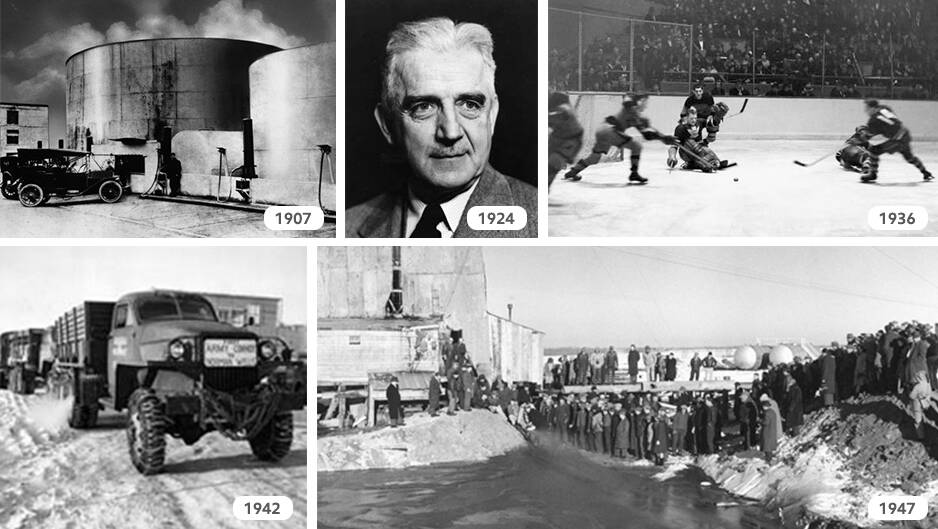 1930
Imperial develops the phenol-extraction process for the manufacture of lubricants.
1936
Imperial sponsors Hockey Night in Canada radio broadcasts for the first time.
1942
Imperial joins the Canadian and U.S. governments in Canol, a project to provide fuel for the U.S. war effort in the northern Pacific.
1947
Imperial discovers oil at Leduc, marking the beginning of Western Canada's great oil development.
1949
Imperial and others from the Interprovincial Pipe Line Company build a pipeline from Edmonton to Superior, Wisconsin.
1960-1999
1964
At Cold Lake, Alta., Imperial begins an experimental program to extract bitumen from the oil sands.
1971
The company discovers natural gas at Taglu in the Mackenzie Delta.
1975
Imperial's Strathcona refinery is built to replace older refineries in Edmonton, Regina, Winnipeg and Calgary.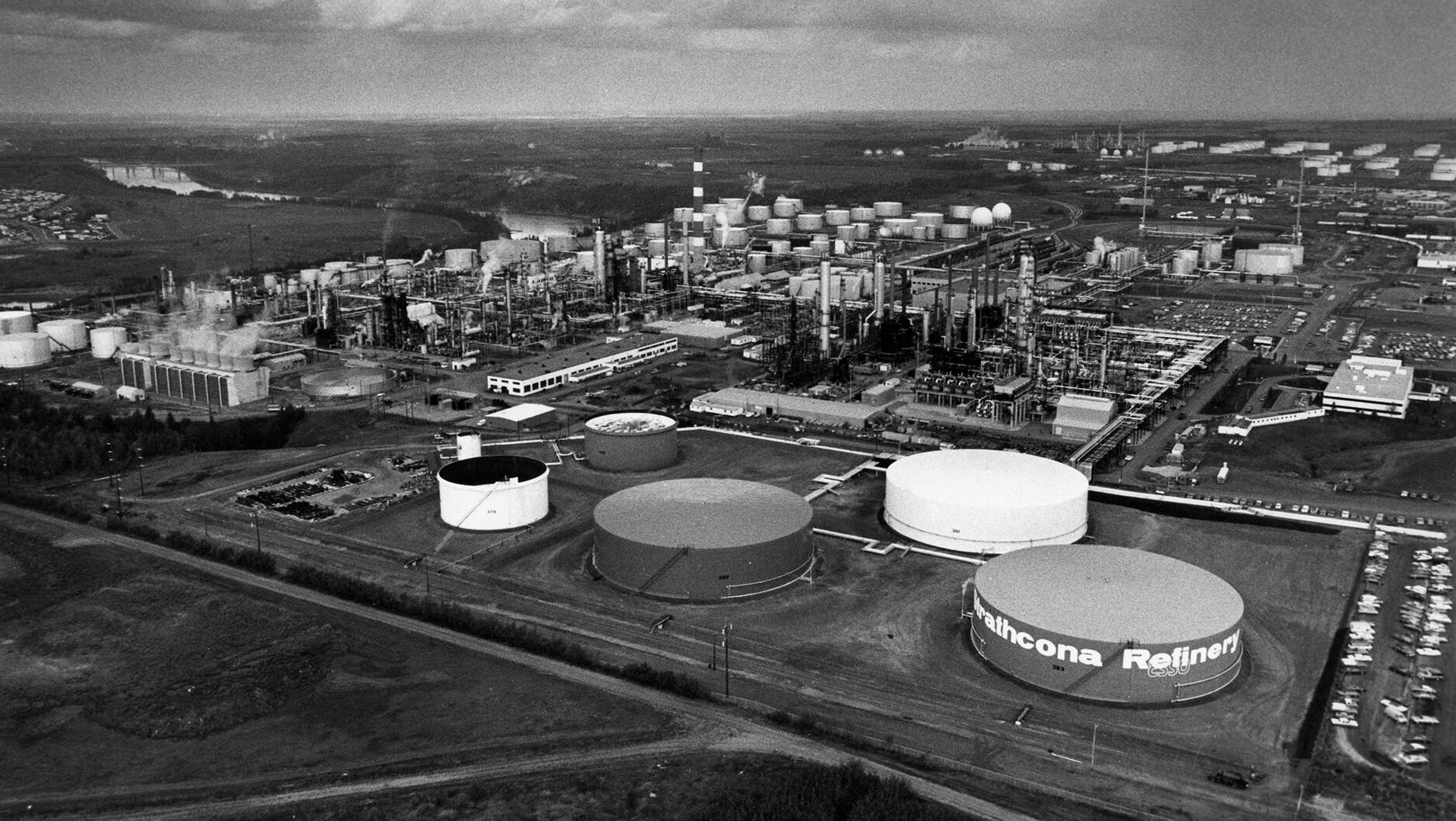 1978
Esso Resources Canada Limited, a Calgary-based wholly owned subsidiary, is formed to manage all of the company's natural resource activity.
1981
A new division, Esso Petroleum Canada, is formed to manage all of the company's petroleum product operations.
1984
Sixty years after research began in Sarnia, the new Sarnia Process and Automotive Research Centre opens.
1985
At the Norman Wells oil field in the N.W.T., a three-year expansion project is completed, making it the largest single project in the company's history.
1989
Imperial purchases Texaco Canada Inc.; it is the second largest corporate acquisition in the nation's history.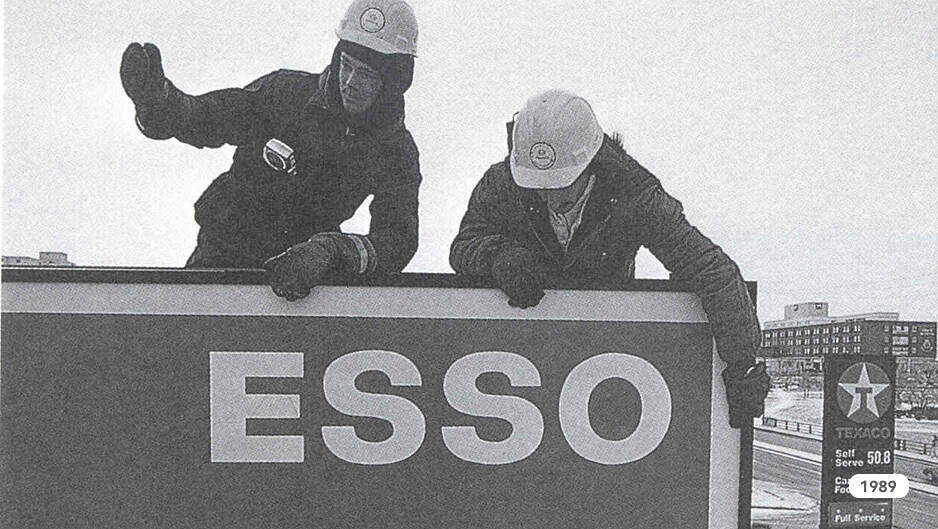 2000s
2004
A $10 million grant is given to the University of Alberta for a new research facility mandated to find more efficient, economically viable and environmentally responsible ways to develop Canada's oil sands resources.
Imperial moves its head office to Calgary from Toronto in Fifth Avenue Place.
2007
Imperial and ExxonMobil Canada acquire a multi-year exploration license, covering more than 500,000 acres, to explore for hydrocarbons in the Beaufort Sea.
2009
Imperial announces its decision to fund the first phase of the Kearl oil sands project, a new mining development northeast of Fort McMurray, Alta.
2012
Imperial announces approval of an expansion of the company's Cold Lake operation in northeastern Alberta, called Nabiye.
2013
Imperial announces the start-up of the initial development of the Kearl oil sands project, which incorporates next-generation technology innovations that significantly enhance environmental performance.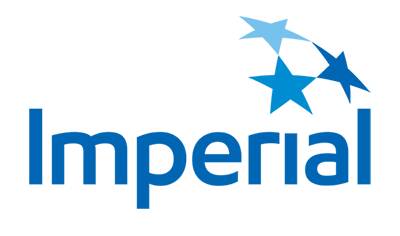 2014
Imperial launches new corporate brand, logo and the name of the company becomes Imperial.
2015
Imperial announces the successful startup of the Kearl oil sands expansion project, ahead of schedule.
2016
Imperial launches 'Synergy' gasoline, developed with seven key ingredients and engineered to help improve fuel economy.
Imperial announces on March 6, it had reached agreements with five fuel distributors in Canada to sell its remaining 497 company-owned Esso retail stores.
Moves to a new campus-style office complex in southeast Calgary are completed.
Imperial opens new oil sands research centre in southeast Calgary, a state-of-the-art, 40,000 square foot facility, focused on oil sands innovation and technology.