Sarnia Products Pipeline
Waterdown to Finch Project
Imperial's Sarnia Products Pipeline is important infrastructure that provides products used by households and businesses across the Greater Toronto and Hamilton Area. This includes a significant portion of jet fuel for Toronto Pearson International Airport, as well as gasoline and diesel fuel that keeps people, goods and services moving throughout our region.
Waterdown to Finch Project Overview
Imperial's Sarnia Products Pipeline has been operating safely for many years. The Waterdown to Finch Project is a proactive measure to ensure continued safe and reliable fuels supply by replacing 63+ kilometres of the pipeline, from our Waterdown pump station in rural Hamilton to our storage facility in Toronto's North York area.
Installation of the replacement pipeline is complete across the entire Project right-of-way and the new line is now operational and in-service. The existing pipeline has been safely deactivated and left in place to minimize environmental impacts. A restoration plan is now being followed to help return all impacted areas to as close to pre-construction conditions as possible.
Imperial is committed to ensuring the safety and reliability of the Sarnia Products Pipeline throughout the construction period of the Waterdown to Finch Project.
Replacement

Replacing the existing 12-inch pipeline with a new 12-inch pipeline.

Safe deactivation

Safely taking the existing line out of service and continuing to monitor it in place.

Environmental protection

Working closely with regulatory agencies and complying with all environmental requirements.

Restoration

A restoration plan is now being followed to help return all impacted areas to as close to pre-construction conditions as possible.
Commitment to our local communities...

The replacement project is anticipated to create 400 direct jobs in Ontario supporting project management and construction activities, and more than 1,000 direct, indirect and induced jobs.
As part of our commitment to working with and empowering local communities, Imperial has been managing a dedicated Direct Community Investment (DCI) program within all of the Project's right- of-way (ROW) communities since 2018.
The DCI program is designed to support capacity building and training, education and STEM development, environmental stewardship, events, and other local community activities. Imperial is proud to work directly with our local partners to build and promote strong sustainable communities.
Construction Methods
Imperial builds safety and integrity into its pipelines from the outset of construction. Our pipeline projects have rigorous material, design and construction standards that comply with or exceed all applicable government and industry standards. For the Waterdown to Finch Project, Imperial is using two construction techniques: open-cut construction and horizontal directional drilling (HDD).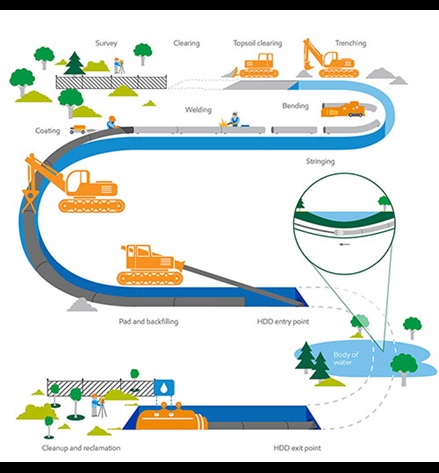 Imperial's Waterdown to Finch Project
Horizontal directional drilling
Open cut construction
Open cut construction is the fastest method for pipeline installation.
Lay and bend the pipe to match the contours of the land
Weld, test and inspect the pipe
Lower pipe into the trench and cover it for protection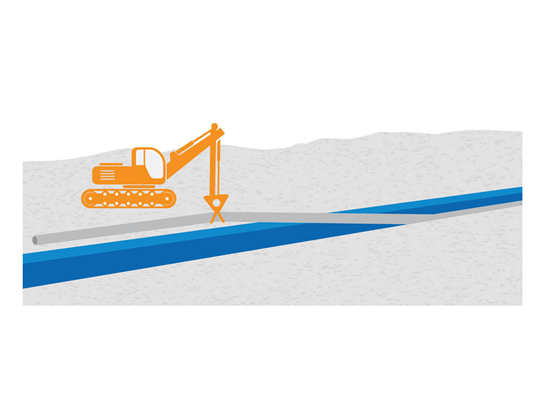 Trenchless construction
Horizontal directional drilling (HDD) is a method of installing underground pipe using a drilling rig at the surface level.
Drill along a designed directional path
Enlarge the pilot hole to fit the pipeline
Pull the pipeline back through the hole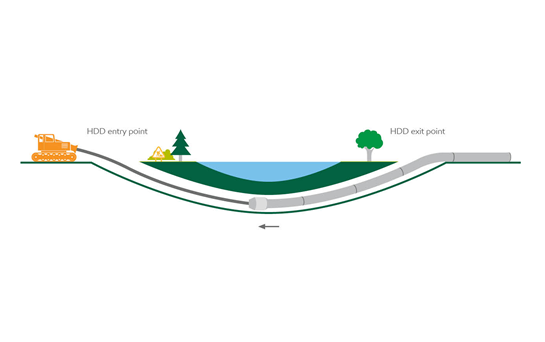 Where are we deploying trenchless construction?
Imperial is deploying trenchless construction known as HDD to minimize impacts to sensitive or congested areas like water bodies, significant wetlands, highways and sensitive archaeological or cultural heritage sites.
Imperial's safety performance is among the best in the Canadian energy industry. We attribute our record of safe and reliable operations to our preventative maintenance and proactive pipeline inspection programs. Learn how Imperial prepares for continued safe pipeline operations.
Our commitment to community engagement
Indigenous collaboration
We are engaging Indigenous field monitors on archaeological assessments and environmental field surveys to support the preservation of known archaeological and cultural heritage resources.
Our commitment to community engagement
Working with the local community
Imperial is committed to meaningful community engagement throughout the duration of the Project. We will continue to work with local community members to help inform solutions to minimize the impact of any disruptions.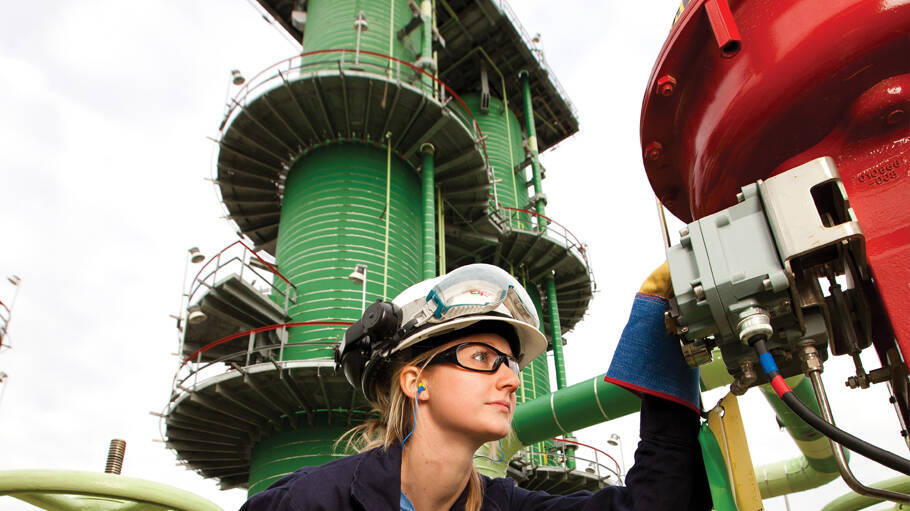 Operations
We are integrated, which means we do business across all stages in the oil and gas journey. We explore for and produce oil and natural gas and transport it to our refineries, where we make it into products Canadians use every day.
Esso and Mobil stations
We've been fuelling Canadian journeys since nearly the beginning, when we opened Canada's first service station in Vancouver, B.C.