Cold Lake
Imperial's Cold Lake operation is the longest-running operation in northeastern Alberta and one of the largest thermal in-situ heavy oil operations in the world. Safety, environmental protection and innovation have led our operations here since the 1960s.
Overview
Technology developments have increased bitumen recovery rates from about 20 percent in the mid-1990s to more than 50 percent today. Over the same period, new technologies in water treatment and re-use have enabled Cold Lake to significantly reduce fresh water requirements so today, more than 95 percent of Cold Lake's water is recycled.
Our Cold Lake operation produces, on average, about 160,000 barrels of bitumen a day (gross).
Our local leases cover about 780 square kilometres (about 300 square miles), and are located in the Municipal District of Bonnyville, Treaty 6 territory, and Metis Nation of Alberta Zone II. We operate five processing plants in the area, built to serve the ongoing phases of development:
Leming – started production in 1975
Maskwa (Cree for 'bear') – started production in 1985
Mahihkan (Cree for 'wolf') – started production in 1985
Mahkeses (Cree for 'fox') – started production in 2002
Nabiye (Dené for 'otter') – started production in 2015
Other:
Amisk (Cree for 'beaver') – central administration building
Cold Lake Expansion Project – a 55,000 barrel-per-day (bpd) proposed solvent-assisted steam-assisted gravity drainage (SA-SAGD) project in the Grand Rapids formation (View the Cold Lake Expansion Project in the Opportunities section)
Cold Lake Expansion Project
Imperial is proposing to expand its Cold Lake operations (CLO) with an in-situ solvent-assisted steam-assisted gravity drainage (SA-SAGD) oil sands project named the Cold Lake Expansion Project.
The project is located within the CLO lease, approximately 23 kilometres from Cold Lake, Alberta and within the Municipal District of Bonnyville No. 87.
The project would produce from a bitumen resource located in the Grand Rapids formation.
Imperial initiated the environmental baseline studies for the environmental impact assessment (EIA) in 2013 and completed environmental assessment work in 2015. The regulatory application and EIA were submitted to the Alberta Energy Regulator in March 2016. In August 2018, Imperial received regulatory approval for the proposed Cold Lake Expansion project. No final investment decision has been made.
For more information
Indigenous and stakeholder input are important to adequately assess potential environmental impacts and develop appropriate mitigation measures for the proposed project. Imperial strongly encourages feedback throughout the consultation process in order to adequately identify and address comments and concerns. In addition, a variety of ongoing public forums will provide Indigenous groups and stakeholders with opportunities to review and provide input. Should you have any initial concerns or feedback, please contact the following:
| | | |
| --- | --- | --- |
| Contact | Position | Email |
| Cold Lake | Public and Government Affairs Manager | contact.imperial@esso.ca |
| Jaret Cardinal | Indigenous Relations Lead | jaret.l.cardinal@esso.ca |
Working in Cold Lake operations
The best and the brightest. Always. And right now we're investing heavily in new technology and the people who can help develop it to face today's energy challenges and reduce our environmental footprint.
About 400 employees and up to 1,000 contractors work in our Cold Lake operation. The majority are residents of the City of Cold Lake, Town of Bonnyville or the MD of Bonnyville. Educational requirements vary for each position and are outlined in each specific job posting. A grade 12 diploma or General Equivalency Diploma (GED) is a minimum requirement for all positions.
What's it like to work at our Cold Lake operations?
Related websites
Workforce development
We support recruitment and development programs that enable people to meet the company's employment requirements and business needs. This includes in-house training, mentoring and job rotation for skill development, along with networking programs to help our employees maximize their potential and enhance their job satisfaction.
Women in Wage Network (WIW)
Formed in 1991 to support, mentor and empower women entering non-traditional careers, the Women in Wage Network now has over 40 members working throughout Cold Lake's operations.
Imperial Native Network (INN)
For 25 years the INN has provided opportunities for long-term, sustainable employment in a supportive work environment that allows for growth and development of our Aboriginal workforce. As a result of the INN, our Cold Lake Aboriginal workforce has grown to over 40 employees.
Developing the next generation of workers
Apply for Imperial education programs such as scholarships, internships and registered apprentice programs.
Apply here:
Innovation
Cold Lake cyclic steam stimulation (CSS)
Cold Lake bitumen is located more than 400 metres (a quarter mile) under ground. Through a process called cyclic steam stimulation (CSS), we extract bitumen by injecting steam into the oil sands to thin the heavy bitumen, enabling it to flow to the surface through wellbores. This technology did not exist when we purchased the Cold Lake leases more than five decades ago. We challenged our research teams to devise new recovery technologies that would reduce costs and environmental impacts. They rose to the challenge, developing and patenting cyclic steam stimulation in 1966 and steam-assisted gravity drainage (SAGD) in 1982, two innovative processes that have underpinned the development of the in-situ oil sands industry in Canada.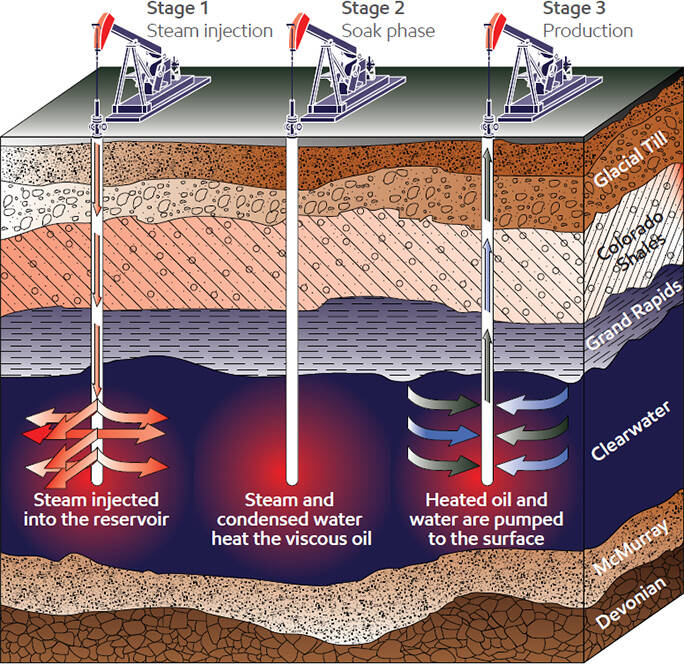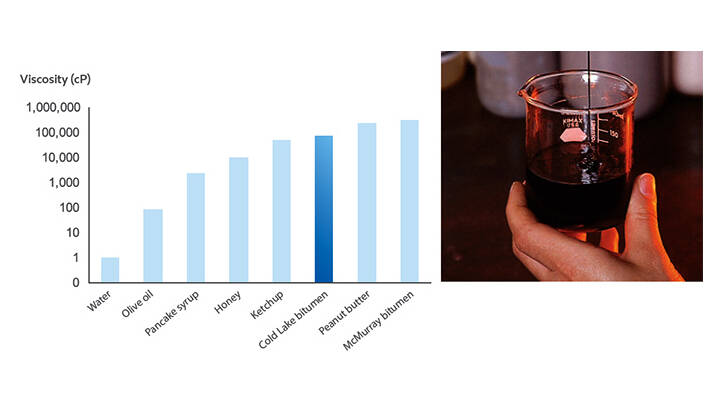 Safety and emergency preparedness
We manage our business to prevent incidents by applying the highest standards of safety, health and environmental care. In the event of an emergency, Imperial will respond in an effective and timely manner. Our priorities for operating are:
Take care of yourself and all others
Take care of your workplace and your neighbourhood
Take care of business
We are continuously improving so Nobody Gets Hurt. Some of our safety fundamentals that help us meet the highest standards are:
Contractor selection and monitoring process assessment tools
Pre-job planning tools
Hazard assessments
Behavioral observation program
Stop and think cards
Stop the job program
Safe driving program
Visit the Imperial Safety overview section to learn more about our industry-leading programs and company-wide commitment to worker and community safety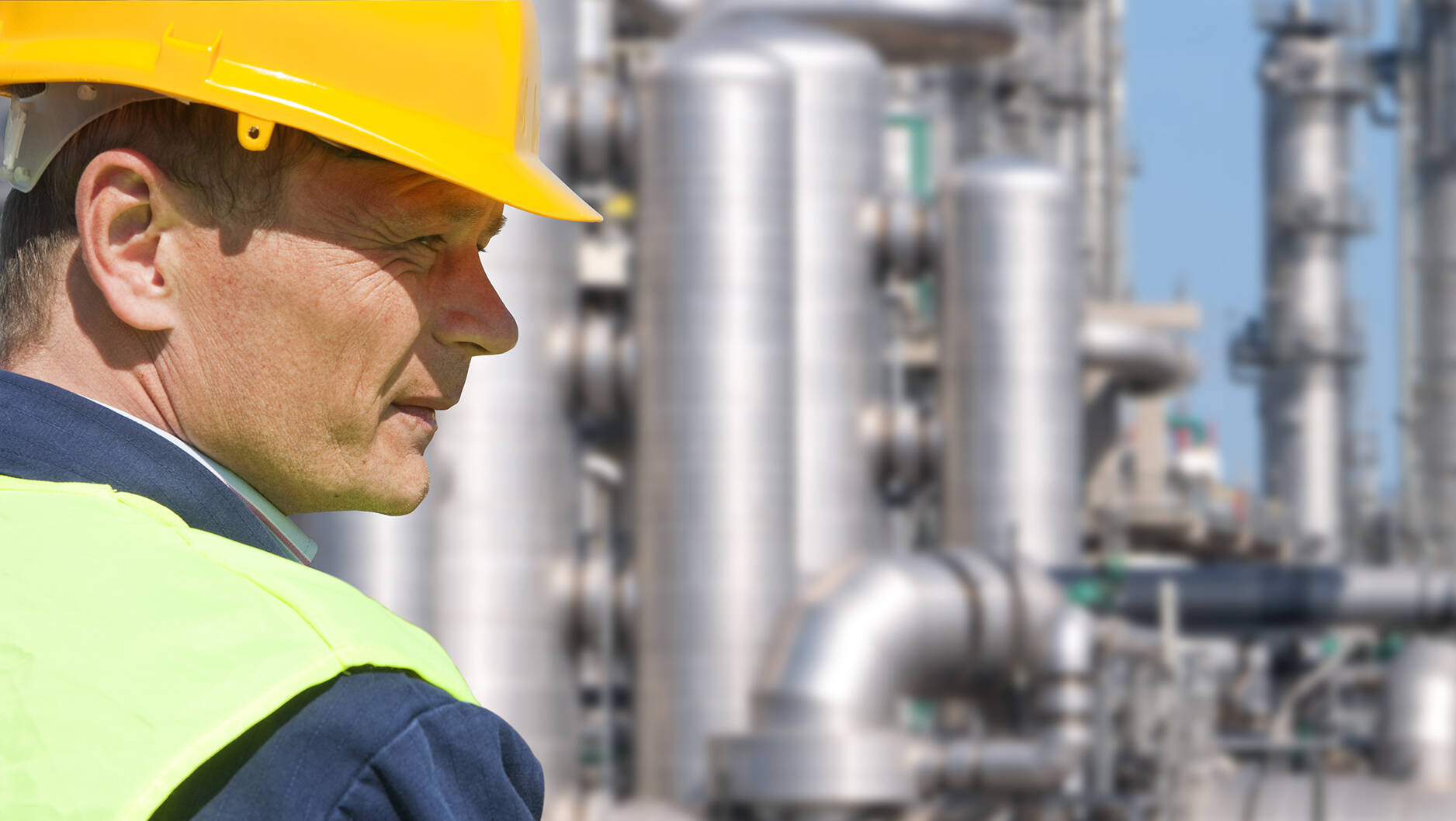 Environment
We are committed to meeting the demand for energy in an environmentally responsible manner. This is what drives us to continuously pursue technologies and practices to reduce our impact on the air, water, land and wildlife.
Reclamation
Our goal is to progressively restore disturbed areas back to an 'equivalent land capability' upon decommissioning, remediation and reclamation. Since 1999 we've planted over 16 million tree and shrub seedlings, and we partner with others in the industry in a Cold Lake vegetation cooperative that collects native plant seed from the area to be used in upcoming reclamation and restoration projects.
Wildlife
Imperial's Cold Lake operation was again certified by the Wildlife Habitat Council, a group of conservation organizations dedicated to restoring and enhancing wildlife habitat. Community outreach and education is one aspect of our Wildlife at Work certification.
Conserving fresh water
At our Cold Lake operations water is used to generate steam that is injected into underground reservoirs to heat the oil so it can be pumped to the surface. Recycled water accounts for over 90 percent of the operation's total water usage. The remainder is drawn from other sources including freshwater from Cold Lake.
Alberta Environment and Sustainable Resource Development grants freshwater withdrawal licenses. On average, Imperial uses only 70 percent of its allowable license allocation.
Imperial continues to investigate monitoring of groundwater chemistry – as groundwater moves very slowly and requires a long time to move even short distances, the groundwater field studies will continue for many years. Cold Lake operations' extensive groundwater monitoring program for both shallow and deep groundwater will be extended to include the Cold Lake expansion project.
Air quality monitoring
Cold Lake operations has been a partner with the Lakeland Industry and Community Association (LICA) for over 15 years. LICA gathers, shares and acts on information regarding development in our region, including operation of a premium air quality monitoring network. Four continuous monitoring stations provide up-to-the-minute measurements of ambient concentrations for several man-made and natural emissions, while passive monitoring stations provide data about regional patterns in air quality and for long term trend analyses.
The Cold Lake expansion project will use SA-SAGD, which is expected to reduce GHG intensity over the life of the development, compared to SAGD.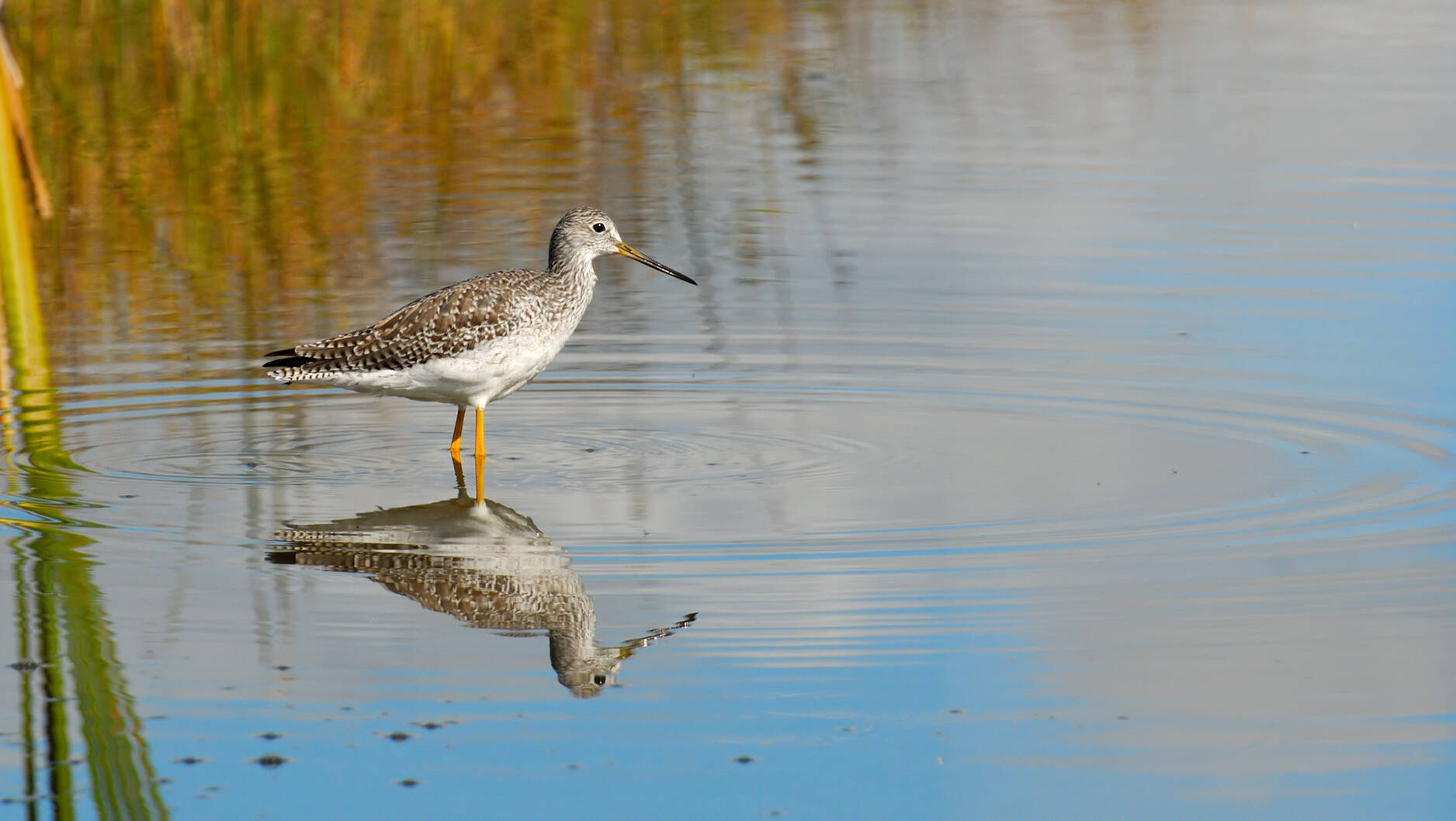 Imperial creates lasting relationships with communities by supporting initiatives that address community needs within the areas of our four pillars – business development, consultation, community relations and investment, and workforce development. Our community investment includes dollars but also in-kind donations, volunteer hours, sponsorships and scholarships.
Visit the Community investment section of the website to see what we fund, to apply for funding and to learn more about how our company and employees support communities.
Over the past five years, Imperial has invested over $1.9 million into the Lakeland area.
Some of the local programs we're proud to sponsor recently:
Lakeland United Way
We are proud to be the Lakeland's biggest supporter of the Lakeland United Way, an umbrella fundraising organization that supports multiple non-profit organizations in our local community. Since 2000, we have contributed over $1.5 million to the Lakeland United Way. In 2015, our total Cold Lake campaign raised just over $163,000.
Imperial support for education in Cold Lake earns award
Providing opportunities for students that help them to make connections between what they are learning in the classroom and careers they may want to pursue has earned Imperial the Alberta School Boards Association (ASBA) 2016 Friends of Education Award.
The Cold Lake Operation was nominated for the award by Lakeland Catholic Schools Board of Trustees. Cold Lake & Conventional Asset Manager Darlene Gates accepted the award on behalf of Imperial.
The award is presented annually to organizations that have demonstrated a commitment to the improvement of education for Alberta's students.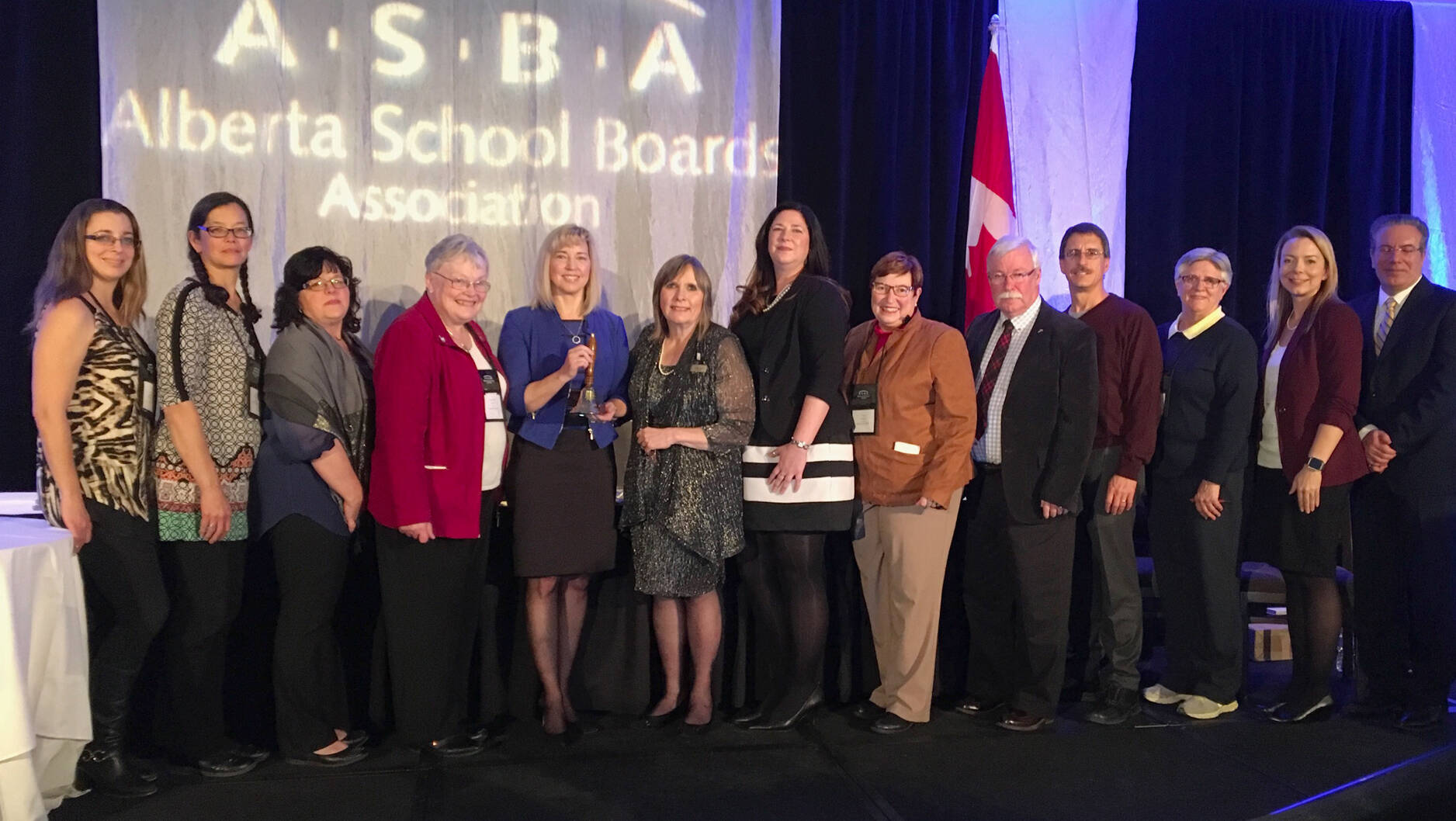 Contact us
General inquiries: +1 780 639 5111
Emergency contact (24 hours): +1 780 639 5200
Refer to the Safety and environment section of this site for details of our safety culture, emergency preparedness and performance.
Mailing address:
Imperial Oil Resources - Cold Lake Operations
P.O. Box 1020
Bonnyville, AB
T9N 2J7
Follow us on Facebook for the latest information on our Cold Lake operation.