The many faces of diversity at Imperial
Imperial has more than 5,500 staff across Canada. With that many people spread across a large and culturally-diverse country, we're bound to see all sorts of differences within our teams. And that's a good thing. Imperial's focus on diversity and inclusion helps create a workplace where people's unique contributions and perspectives are respected and valued. These different ideas and viewpoints ultimately strengthen the company and help it grow and innovate.
Imperial as an organization recognizes that diversity is a very broad concept. It encompasses all the ways in which we are different. To help employees self-identify and talk openly about differences, the company identifies six diversity focus areas: Indigenous Person, Visible Minority Member, Person with a Disability, Sexual Orientation, Gender Identity, Veteran Status.
Meet a few of the folks at Imperial who self-identify in these categories and hear their thoughts on workplace diversity.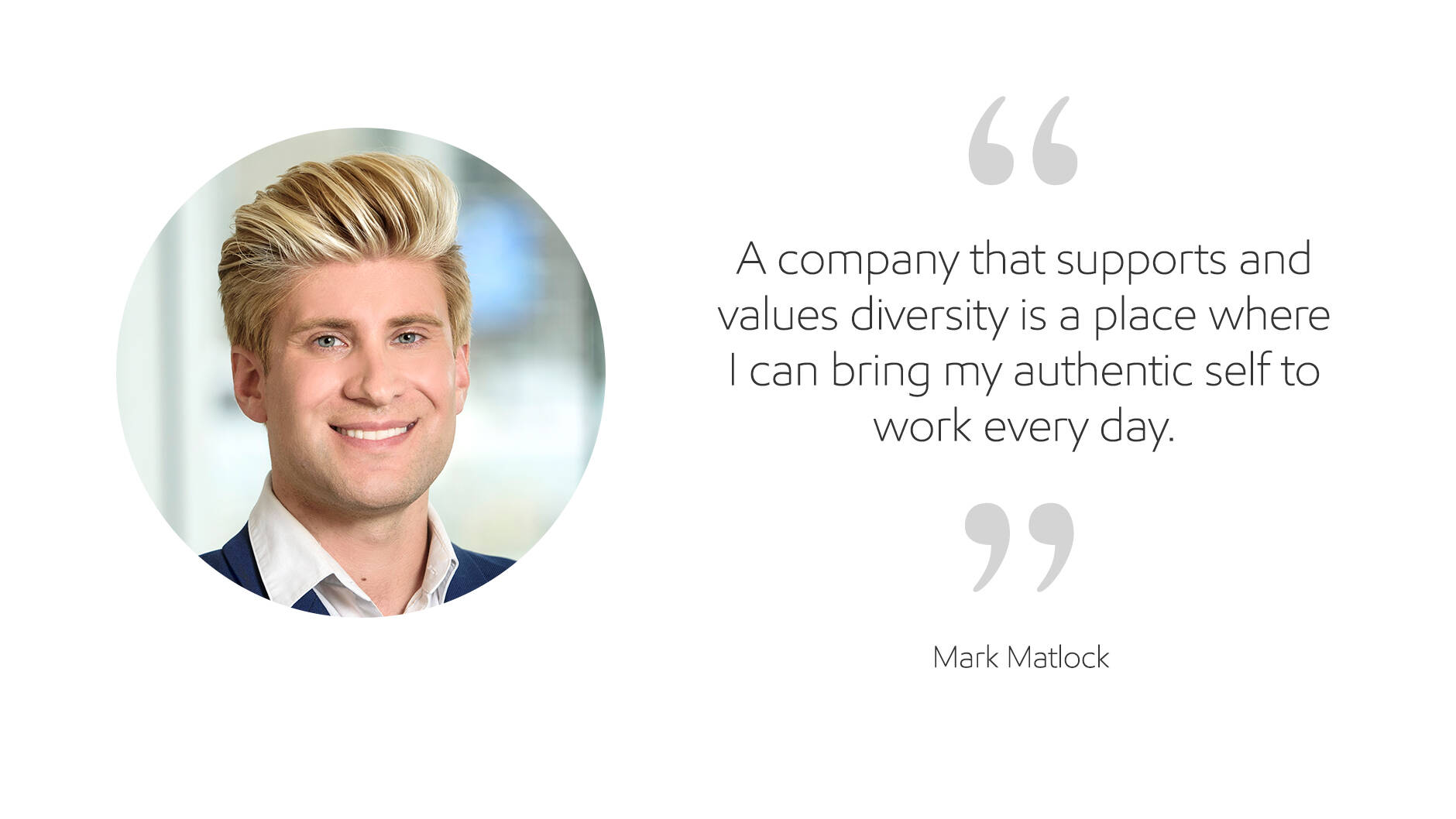 Mark is a member of the LGBTQ community. He was aware of the employee resource group, PRIDE (People for Respect, Inclusion and Diversity of Employees) available to Imperial staff, but was reluctant to join at first. "I didn't know how it would be viewed," he explains. "But I soon saw the overwhelming support of managers and employees and met some great people while attending PRIDE events." Mark says the availability of this network and the support of his colleagues helps him feel comfortable in his work environment.
He has had the pleasure of attending recruiting events at schools while wearing his PRIDE pin, and Mark says it feels good to help show future prospective employees the support Imperial gives its diverse workforce. "It's important. We need people who think outside the norm, bring a variety of skill sets and fresh perspectives to an industry that has been around for over 100 years. And a company that supports and values diversity is a place where I can bring my authentic self to work every day."
Mark is a Contingent worker coordinator in Procurement services at the Quarry Park Campus in Calgary. He has been an Imperial employee for almost seven years.
Rachel is a member of the Athabasca Chipewyan First Nation. She works as a heavy equipment operator, so while she identifies first as an Indigenous Person, she is also a woman in what has traditionally been a male-dominated role. Needless to say, support for diversity in the workplace means a lot to Rachel.
"Having a diverse workforce is very important," she says. "But it only works if we are all treated as equals. And that's what I like about working up here - it's a very nice atmosphere. We're a team."
Rachel describes her workplace as one in which harassment is not tolerated. "I find that no one person is treated better than another due to their race, gender or age and that is very important when it comes to building a family," she explains. "I mean, that's what we are up here, a family."
Rachel has worked as a Heavy Equipment Operator at Kearl Lake for a little over two years.
Did you know? Imperial engages with 30 to 40 First Nations, Inuit and Métis communities in Alberta, British Columbia, southern Ontario and the Northwest Territories.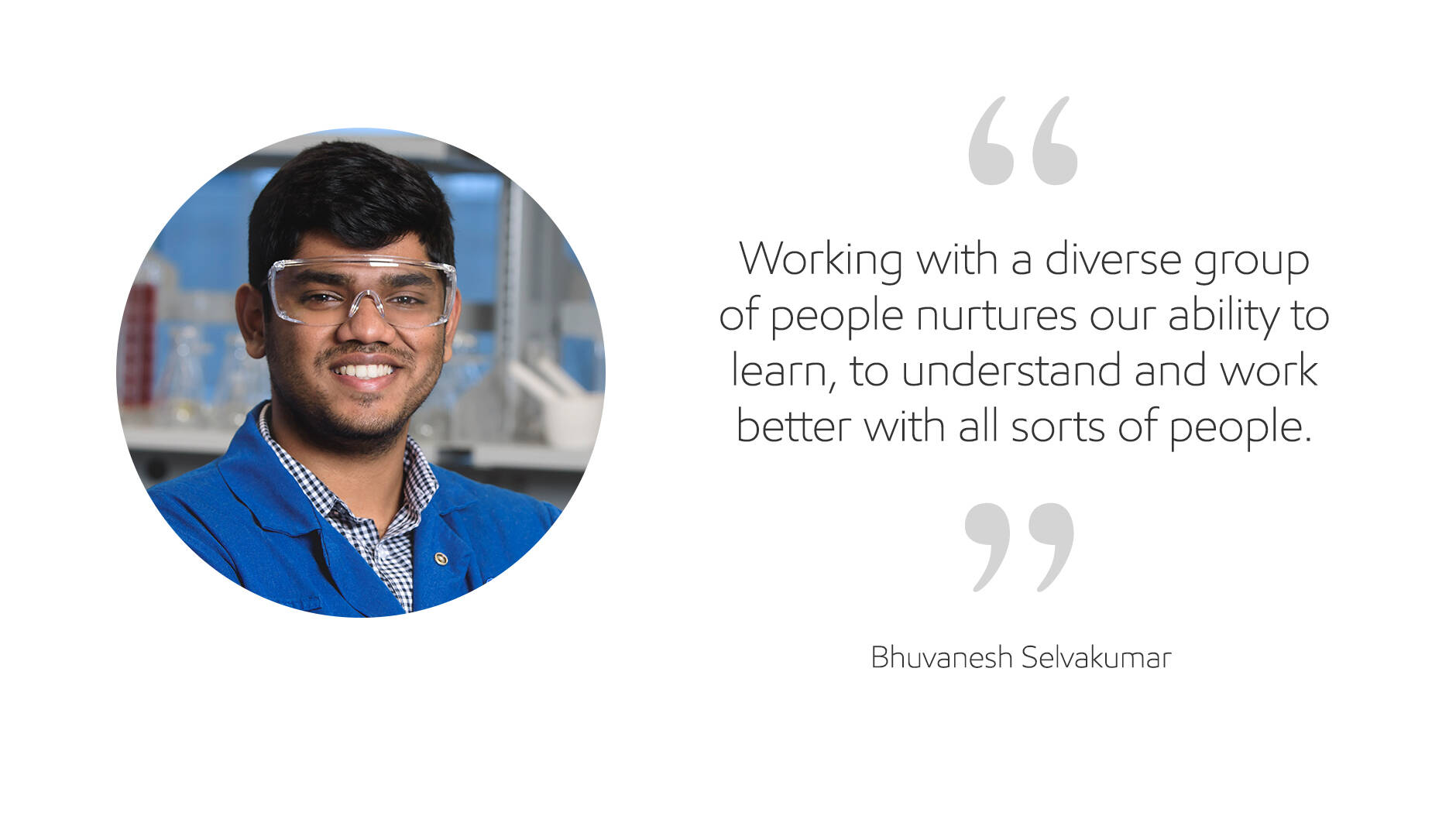 Bhuvanesh falls into the formal category of visible minority, but it's not his outward appearance that he feels sets him apart. Rather, it's the unique perspective he brings to his work as a researcher. A workplace that values diversity allows him to do that.
"I think diversity is very important to bring interesting ideas and innovation to the table when working in a collaborative environment," he says. "It helps me bring forward different opinions on the same subject, or review some critical piece of information which might have gone unnoticed otherwise. Generally, working with a diverse group of people nurtures our ability to learn, to understand and work better with all sorts of people."
As fairly new to the company, Bhuvanesh credits Imperial's new employee orientation program for helping him understand his role, the organization and expectations. This has helped him to fit in easily with his team. He also appreciates the open floor work environment where everyone is easily accessible without the need for formal protocol.
"The periodic meetings, group lunches and company news feed all helped me to understand the value of diversity at Imperial," he explains. "Also, I feel very comfortable to discuss any issues with my manager, which I believe is a great support to have."
Bhuvanesh is based in Calgary, where he is a reservoir engineer-in-training.
Did you know? One-in-five people are foreign-born in Canada.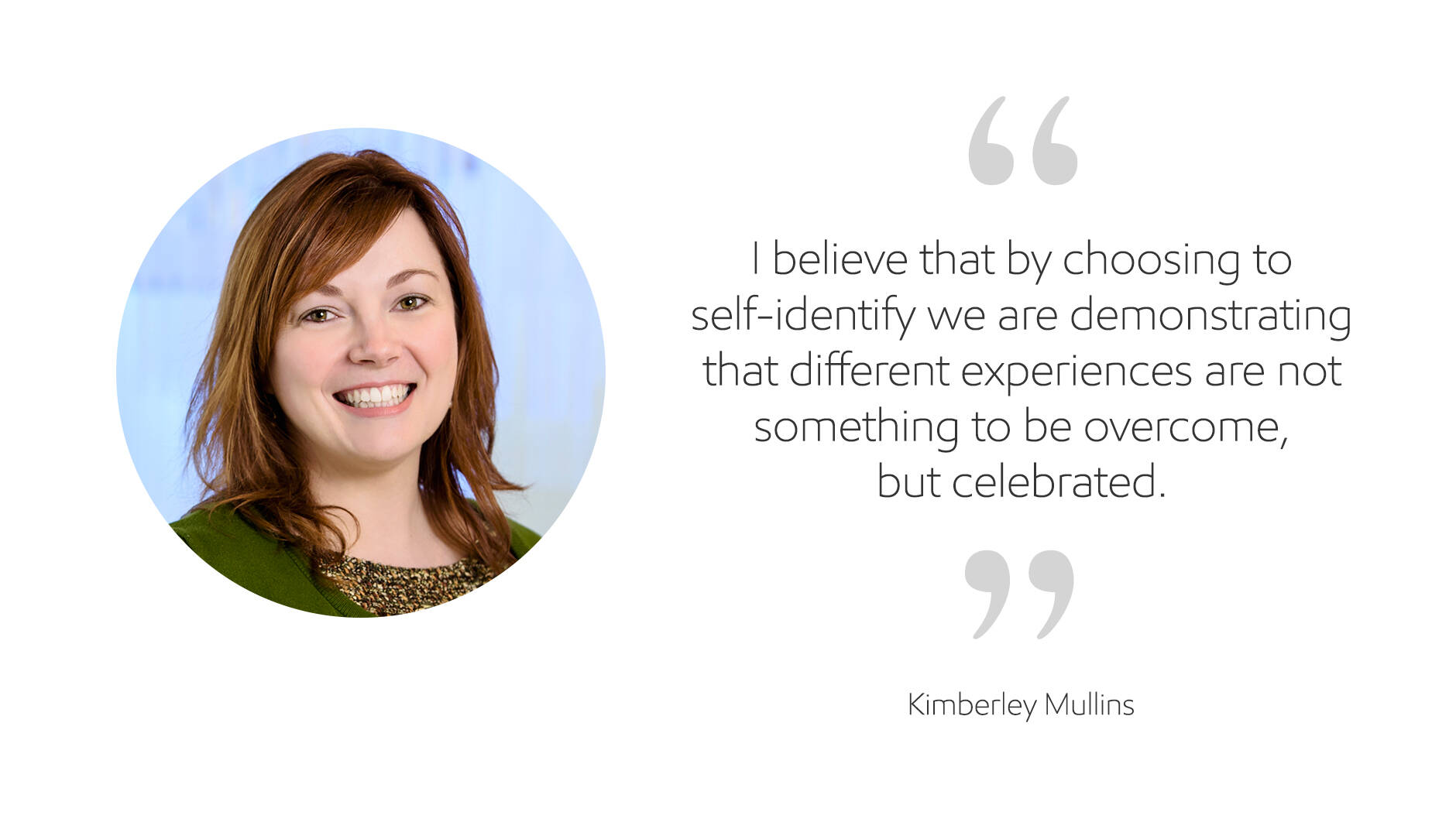 Kimberley is a person with a disability, although those who work with her wouldn't necessarily know that. "Because my disability is not always visible or evident to those around me, I have never had to face the conscious or unconscious biases that many other people with disabilities have to deal with," she explains. "I still choose to self-identify so I can be part of the conversation, and help to challenge some of those stereotypes about what it means to have a disability. Disability is not one thing – everyone's experience, perspective and challenges are unique."
She chooses to identify herself this way and talk about her experience in the workplace because she feels it is important. In her opinion, if an organization wants to encourage diversity and inclusion among staff, it needs to both measure progress, and demonstrate that progress and representation to others who may feel excluded.
"I believe that by choosing to self-identify we are demonstrating that different experiences are not something to be overcome, but celebrated," Kimberley says. "I am proud that we continually challenge ourselves to think inclusively in how we manage people, design policies and facilities, and engage with the community."
The company's focus on safety and open support of diversity has made it very comfortable for Kimberley to access adaptive and ergonomic devices to help her with her day-to-day work. The new Ergo Lab at Quarry Park provides an even greater transparency and accessibility to the many tools that are available. Comprehensive benefits and EFAP programs also allow employees to access additional medical and wellness supports as needed.
Kimberley is the organization and culture transformation manager.