Geoscience field trip more than a walk in the park
In the energy industry, the treasure we seek can be miles underground and the clues to finding it can be millions of years old. So much of the information geoscientists need to find oil and gas can't be seen with the naked eye, it can only be pictured based on reams of data and miniature models.
But a Calgary field trip to Fish Creek Provincial Park – the third largest urban park in Canada – provided tangible insights for 16 Imperial geo-technical professionals and students.
The dynamics of the Bow River that winds through Fish Creek are similar to the ancient systems that helped form areas rich in oil like the McMurray oil sands in northern Alberta. It is also unique in that its many geomorphic features are visible within a short walk, while other relevant 'teaching' rivers like the Mississippi, are so large that one has to drive for days to see various features.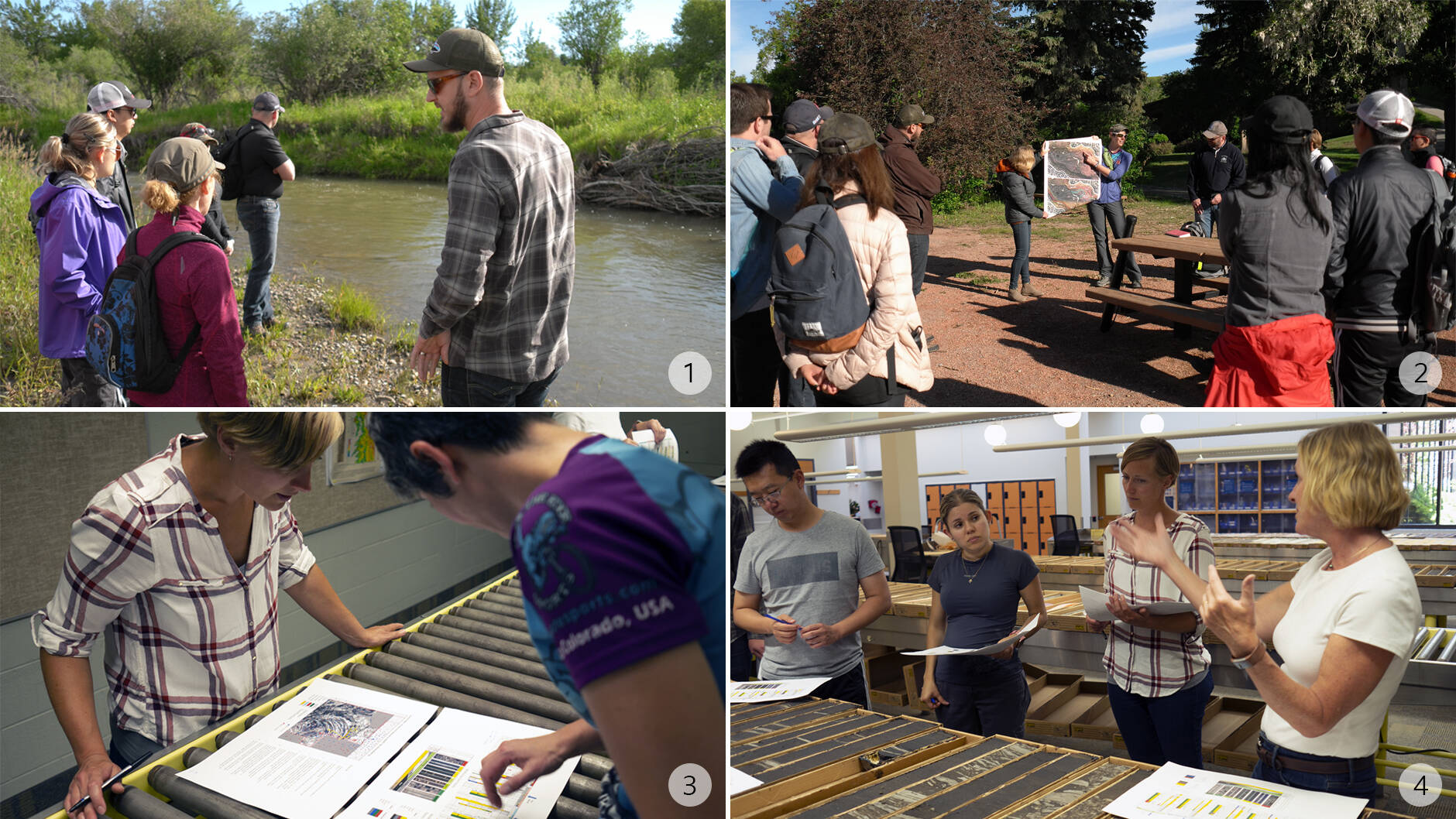 "We were able to see the same environment of deposition that we look for in our work," says Becky Rogala, Imperial's oil sands geoscience technical team lead. "When a river is curving and sinuous, point bars form, and that's where the sand is. Fish Creek is small but the sand grains are large, so you can see the relationships or impacts of river dynamics with the naked eye. Usually, they are too subtle to see."
Noting how the water flows, where vegetation does and doesn't grow, and rock geometry and location, a trained eye can begin to tell a story about the physical world. Knowledge about predictable patterns in small environments is transferred to large-scale formations and the opportunity to 'see' backward in time.
Terraced point bars show how river dynamics change over time. These ridges of sand, gravel and other sediment get deposited by the stream as its velocity drops along the inner bank. In geologic time, terraces form by glacial fluctuation and sea level changes. Sharp punctuations in deposits act like time stamps for geoscientists.
Geoscientists combine their observations of river behaviour with map and sub-surface data to trace old curves and identify where a previous river course was abandoned, as it likely holds valuable sedimentary deposits.
"Changes in the sediment, from sand to mud, are also important to understand so we know how best to operate in a specific area. For example, we use steam-assisted gravity drainage (SAGD) techniques in the oil sands, but mud is a barrier to steam so we look for the best sand by analyzing the geometry of different point bar features," said Rogala.
The field trip included a stop at the Alberta Energy Regulator (AER) research facility at the University of Calgary. The lab houses a large collection of core samples. The team also brought 3D seismic 'time slice' maps so participants could relate features in the core samples and the data they work with daily, to what they observed at the river.
For geo-technicians who work with small details, the field trip was a great opportunity to connect with the big picture.
"These folks are the backbone of our group. They help to make maps, measure grain sizes that help with modeling work, provide detail to guide quality control on drill programs, and they process a ton of data so the geoscientists can do the interpretation," says Rogala. "Their contribution is vitally important."
Learn more about the AER core research centre
Visit Fish Creek Provincial Park