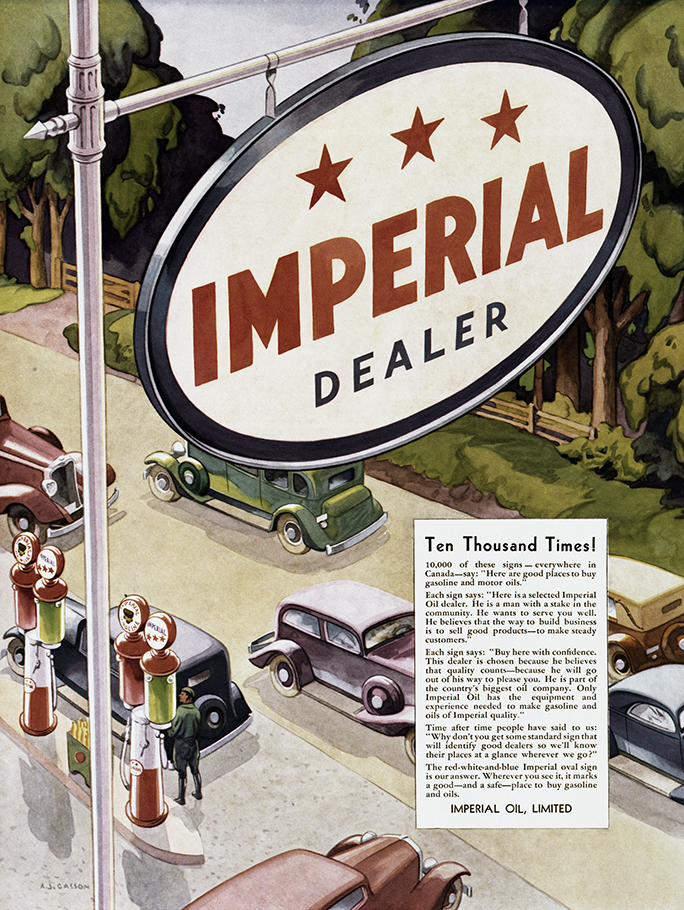 Imperial has a special connection with Canadian Group of Seven artist AJ Casson – a connection that spans decades and touchpoints.
Most recently, Imperial gave Casson's Twilight Near Britt to the National Gallery of Canada in Ottawa in 2015, to celebrate Canada's 150th birthday. The 1960 painting was one of five donated to the gallery, and part of our largest-ever art donation program, which saw 43 paintings in total donated to 15 art galleries across the country.
Artsfile, an online publication based in Ottawa, called the painting "a quintessential example of the Group of Seven style recognized by so many Canadians, and increasingly elsewhere."
But even as Casson was part of that well-known collective of landscape artists, he also had another life – as a commercial artist. And that's his other connection to Imperial.
In 1934, Casson was contracted by Imperial's advertising agency, MacLaren Advertising, to paint a series of magazine advertisements. The three ads show different aspects of Imperial's operations of the day: customer service, products and business opportunity.
"A lot of people worked as commercial artists," says Lynette Walton, Imperial archivist at the Glenbow Museum. "There weren't very many colour photos around at that time, and many ads used the work of artists. In fact, Casson worked as a commercial artist throughout his whole career. There wasn't much money in art, even if you were in the Group of Seven."
The ad artwork is quite different from Casson's fine art style, but Walton says he captured Imperial so well.