Local robot brings big safety wins for Kearl tailings reclamation
Imperial collaborates with Copperstone Technologies to develop technology to safely test tailings
The silver vehicle looks like something you might see roving the surface of Mars. Only this new frontier is a tailings pond piloting new tailings treatment technology to advance land reclamation at Kearl, our oil sands mining operation.
Meet HELIX AR2 – a robot with an important mission – protecting people as they take measures to protect the environment. HELIX steps in where it's potentially dangerous for people, taking samples and testing the strength and solids content of the tailings to see how well it's consolidating so the land can be restored.
HELIX is an innovation developed to help meet Alberta regulatory requirements to reduce tailings pond volumes and reclaim the surface of the landscape faster. The directive requires measurements to be taken from difficult places to access – like the middle of soft tailings deposits.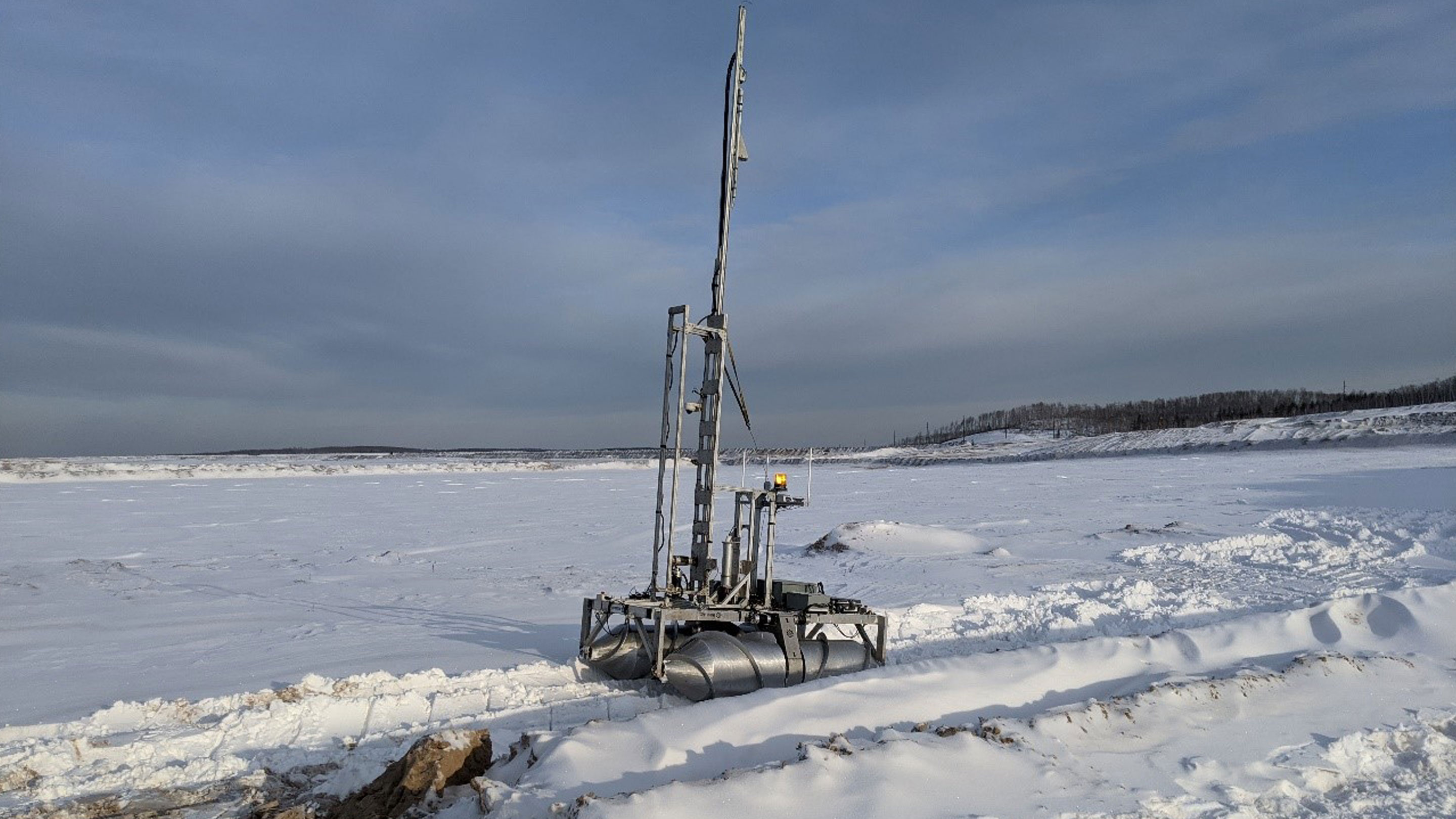 To meet these requirements, oil sands operations such as Imperial started looking for ways to safely and cost-effectively take samples in these challenging conditions.
Challenge accepted, thought a team of young engineers at the time. Hailing from the University of Alberta, the three individuals took some cues to solve the problem from some other innovations in recent history, like Mars exploration rovers, or similar screw-drive style military vehicles deployed in harsh winter landscapes or swamps.
There were examples of technologies navigating extreme environments out there, so our founders used that as inspiration and applied it to tailings ponds," says Craig Milne, CEO of Edmonton's Copperstone Technologies, the vendor and originator of the HELIX. The "wheels" on the HELIX are called scrolls – big pontoons with rotating spiral screws that allow the robot to navigate soft, snowy or watery surfaces. "It's essentially an all-terrain vehicle that provides accessibility into challenging environments, taking measurements and minimizing safety risks.
Collaborating to protect the environment, protect people and save costs
When Imperial staff discovered the HELIX through the Creative Destruction Lab, an Imperial-sponsored program at University of Calgary designed to support start-up technology-based companies, they believed it could be a triple win: protecting people, protecting the environment, and collaboration with a local business. It could also potentially save costs down the road.
"It's an exciting local technology we've been able to use to remove people from hazardous conditions while also opening new doors as we work with Copperstone to expand the kinds of deposits we can test," says Ryan Bouma, Imperial's Innovation Lead.
"Copperstone can put different tools on the robot depending on what tests are required to measure how well the tailings pond is consolidating," says Ryan, noting that it only takes two people standing at the side of the tailings pond to direct the robot where to go. "It used to be that people had to go out on an amphibious rig that requires a rescue plan with additional equipment and operators. It's always safer when we can remove people from the tailings deposit, and as we continue to scale up this technology, we can make the robot more efficient and further save on the costs of larger crews."
For example, the Kearl tailings project pushed into some deep winter months, requiring Copperstone to innovate by changing out materials to keep it cold tolerant. "These lessons help us get more efficient and innovative so the robot can traverse more challenging surfaces and diverse conditions."
As a member of Canada's Oil Sands Innovation Alliance (COSIA), Imperial plans to share its experiences with HELIX with other oil sands operators, notes Ryan. "We're a very supportive partner in developing the technology for this type of testing, and it's definitely applicable to other mining operators. This is a great opportunity for the entire industry to collaborate on technology that improves environmental and safety performance."