A commitment to energy efficiency at our Calgary campus
Our commitment to minimizing our impact on the environment doesn't just apply to developing and operating our resource assets. This approach also guided the design of our head office campus in southeast Calgary, completed in 2016.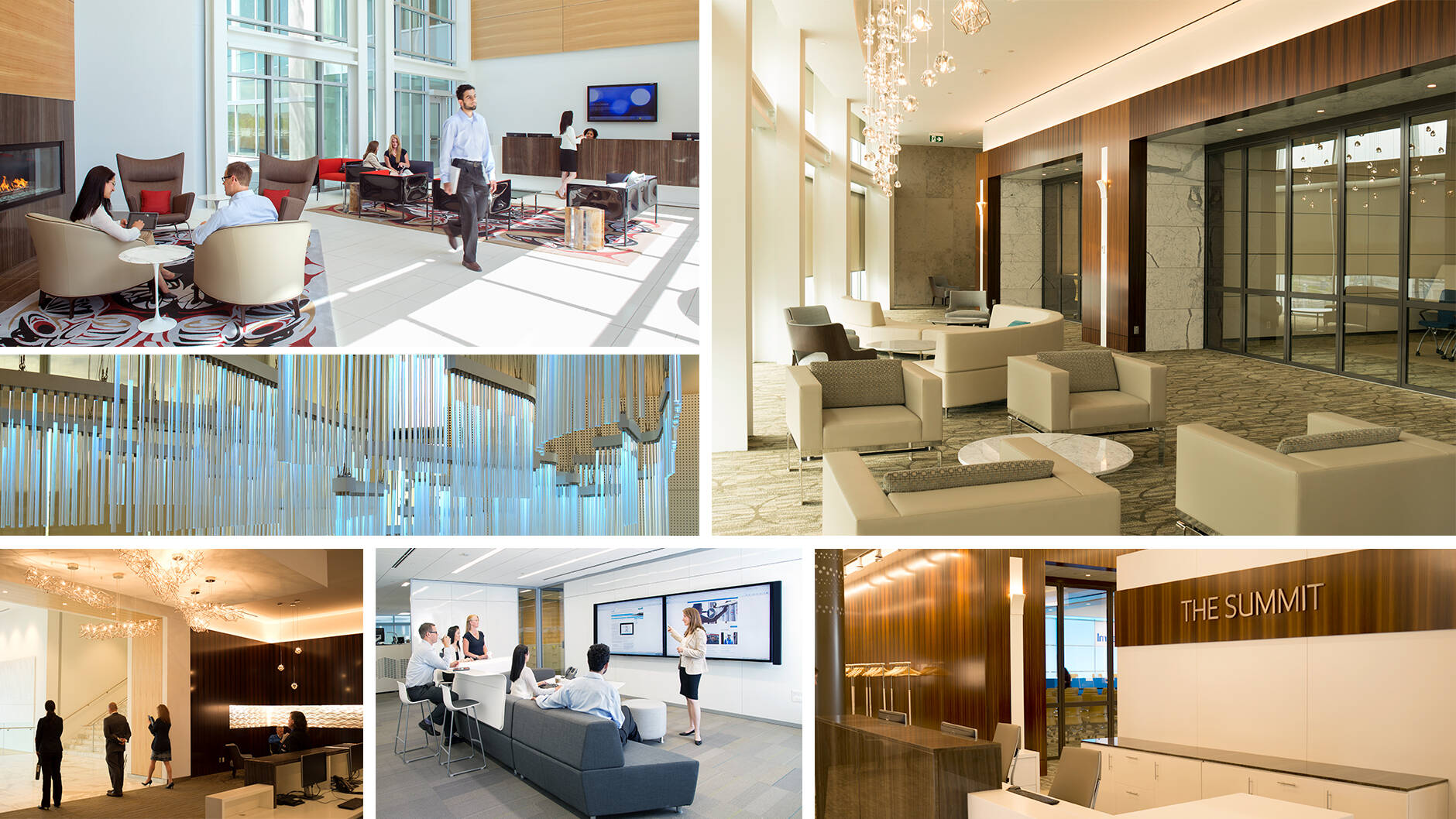 Our campus is about 45.5 percent more energy-efficient than the national standard for building energy performance. The building's efficiency features include:
Reducing radiant heat
Solar-activated roller-shade window coverings retain heat in the winter and keep heat out in the summer.
Floor-to-ceiling windows designed to reduce overall heating and cooling costs and provide natural light.
A reflective membrane on the roof and the exterior building colours reduce heat in summer.
Building efficiency
Highly-efficient boilers, chiller units, and building envelope result in about 40 percent less energy use than typical, older buildings.
Local environmental control
Hundreds of thermostats placed throughout the campus allow delivery based on demand rather than heating or cooling an entire floor to a median temperature.
Elevators
The destination-based elevator system recognizes traffic patterns, reducing the number of elevator cabs by five, therefore using less electricity.
Lighting
Meeting rooms and interior corridors (except emergency lighting) have energy-saving motion sensors that automatically turn lights on when a person enters the area.
Exterior perimeter lighting controlled by photo sensors and lighting is activated when insufficient natural light is detected.
LED lights and energy-efficient fluorescent bulbs used throughout campus reduce the energy demand and extend the life of light bulbs.
Water
Low water-use fixtures in campus washrooms and showers.
The recovered ground water form the campus is pumped to the City's storm water retention pond behind the campus, providing valuable wildlife habitat.
There is also 2,700 M2 of fescue grass that does not require watering.
Other features
Up to 60 electric car plug-ins in the parkade.
Our commitment to an energy-efficient campus did not end at construction. Each year, we work to minimize the campus' impact on the environment.
In mid-2016, we transitioned to a four-stream waste diversion program, which includes: organics (compost), mixed recycling, refundables (bottle recycling) and landfill.
In 2018, the amount of overall site-wide waste dropped 50% per person from 2016.
The collection of refundables (bottles, cans, etc.) resulted in $1,600 being donated to the Aspen Winter Breather program.
The Aspen Winter Breather program provides financial relief from utility and grocery expenses to low-income families during the holidays, empowering them to focus on what matters most to them; like spending quality time with their family or purchasing a gift for their children during the holidays.
Our Calgary campus received LEED Gold certification in 2016. LEED certification provides independent, third-party verification that a building, home or community was designed and built using strategies aimed at achieving high performance in key areas of human and environmental health: sustainable site development, water savings, energy efficiency, materials selection and indoor environmental quality.
In May of 2019 the Calgary Campus earned the ENERGY STAR certification by achieving a score of 98 out of a possible 100. ENERGY STAR is a voluntary program developed jointly by the U.S. Environmental Protection Agency (EPA) and Department of Energy that helps businesses and individuals save money through superior energy efficiency. In 2018 NARCan (Natural Resources Canada) Started recognizing the most efficient commercial and institutional buildings in Canada with the ENERGY STAR certification.