Ultramarathon champ draws on sport to succeed at Kearl
Ailsa MacDonald is a Utilities Shift Engineer with Kearl's Plant Ops B Crew, who says tackling ultramarathons that require strength and focus off the job, helps prepare her for work at Kearl.
MacDonald is the Canadian National Trail Running Ultramarathon Female Champion for 2017. She was the first solo competitor to complete the 2017 Sinister 7 – a grueling 161km (100 mile) trail race through a rugged, remote course in the Alberta Rockies' Crowsnest Pass.
The course included an elevation gain/loss of over 6,000 metres and race day was a hot and sunny 32C. Only about 20 percent of the solo runners completed the race (there were relay teams competing as well). MacDonald's winning time of 18:54:57 was more than 90 minutes faster than the second-place finisher.
Ailsa also won the 50 km event at the Calgary Marathon in May of this year, which qualified her to represent Canada at the 50 km Road Ultra-Running World Championship in Fuxian Lake, China.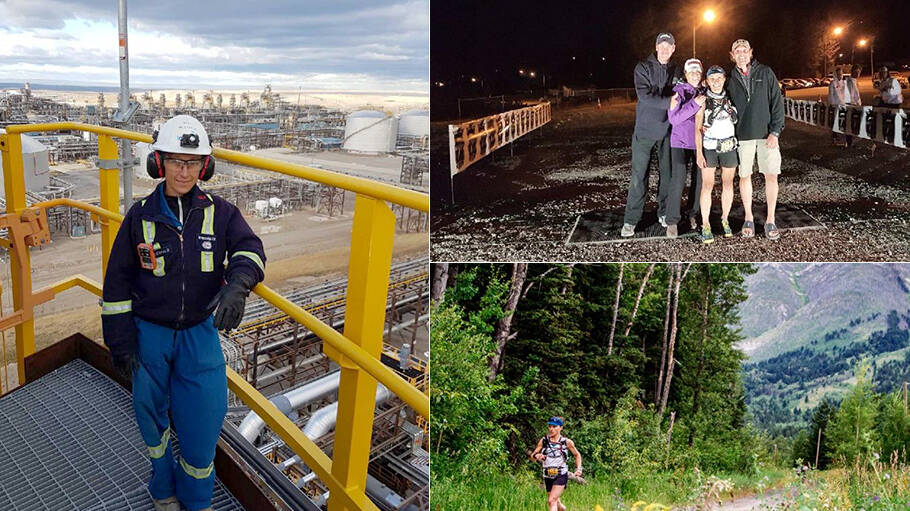 MacDonald's race support team includes her husband, Kearl Operator Barry Green, and friends Leslie Roche and Cold Lake Control Room Operator Dave Roche.
"Big races like these require a crew, since you need a lot of gear that you can't carry yourself, like extra shoes and clothes, food and fluids," explains Ailsa. "And we all enjoy combining the races with our love of adventure and travel."
Just like ultramarathon training and competition, jobs and the work schedule at Kearl are mentally and physically demanding, requiring focus and high performance while enduring long shifts in extreme weather.
Ailsa works a 10-day rotation of 12-hour shifts, alternating day and night rotations, in harsh winters and hot summers.
With only a small headlamp to light her way, Ailsa crossed the Sinister 7 finish line at 2 a.m. She had been running since 7 a.m. the previous morning. "Much like work, I was punching a long day on my feet in extreme conditions doing something physically demanding, trying to stay mentally focused and physically moving forward when I was completely fatigued."

MacDonald says sport has helped her succeed at work. "Being physically and mentally strong makes my job easier. I stay positive and try not to stress when I have a busy day ahead," she says. "I tackle one task at a time and do the best I can."