Imperial's Toks Bakinson, Western Canada projects financial analyst, recently received the Alberta Soccer Association's Woman of Distinction award. Leading her U11 girls' soccer team to the top tier may have gotten Toks nominated, but what won her this award is her dedication to her team's success - both on and off the field - as well as her outstanding contribution to the community.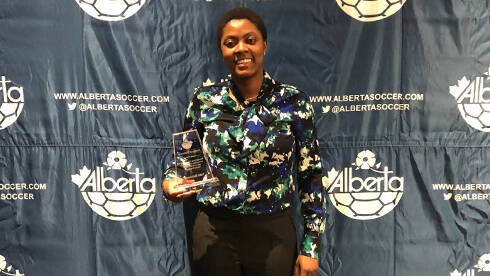 Not only has Toks proven to be a successful coach, advancing her team's capabilities to compete at the highest level of Calgary youth soccer, but she has also served as a great mentor. Toks has stressed the importance of education to her team. Going beyond her role as coach, Toks has tutored her girls and reviewed their homework as needed in her spare time.
"When you are playing soccer at an elite level like my girls are, it is easy to lose sight of other important things like getting an education. I tell my team, as women in a male dominated sport, we need to show people that we are not only great female soccer players, but that we are smart, engaged and well-rounded members of the community."
Also fostering a sense of responsibility to give back to the community, Toks and her team have fundraised and volunteered for various organizations across the city including the Calgary Food Bank and Women's Emergency Shelter.
Leveraging her experiences from coaching, Toks has learned to value not only peoples' strengths, but also their weaknesses. The implications of this go beyond the soccer field, as Toks says it has helped her in her role at Imperial, and as president of the BEST committee. "If someone on my team makes a mistake on the field, I don't punish them, I ask them to tell me how they will do better next time. It's the same thing at work," she says, "if someone makes a mistake, let them grow from it. When we identify our weaknesses, we can challenge ourselves to do better."