Cold Lake Operations (CLO) has a secure water licence and a proven track record of reducing freshwater demand. Since commercial operation began in 1985, CLO has achieved a 90 percent reduction in freshwater intensity and a 50 percent reduction in absolute freshwater use. The initiatives that led to these improvements made it possible for Imperial to return about one million cubic metres of annual water allocation to the provincial government in 2017. This represents about a 20 percent reduction in CLO's allocation to withdraw water from Cold Lake.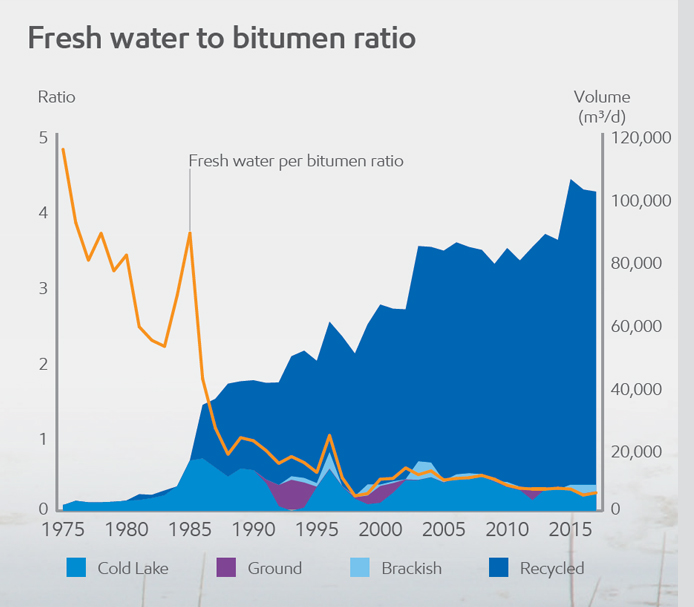 The CLO strategy for water management includes maximizing produced-water recycling as well as minimizing the need for freshwater through the use of produced water and brackish water where facility capabilities allow. CLO recycles 90-95 percent of its produced water in its operations to reduce the requirement for additional freshwater. Since the early 1980s, the volume of recycled produced water used instead of freshwater has increased significantly, as has the ratio of produced water to the total volume of water use. In 2017, 94 percent of water used was produced water.
CLO continues to look for opportunities to reduce freshwater usage and will continue to do so throughout the life of the operations. Significant improvements have been captured already, and further improvements in water conservation, efficiency and productivity may be incremental. In addition, extensive monitoring is conducted to make sure that aquatic ecosystem or local drinking water supplies are not stressed by water use.