Let's get digital, digital
How we are using digital technology to advance our business
Alberta is known as a global leader in oil and gas development, but the province is also making a name for itself internationally in the digital technology space. Together, these two industries could revolutionize how we recover oil and gas resources, reduce environmental impacts and improve the safety of our workforce.
We want to lead our industry in advancing digital and AI technology. To achieve this goal, we created the digital accelerator – a dedicated team, with data science experts, charged with leveraging the power of digital technologies throughout our upstream business.
The digital accelerator's mission is to: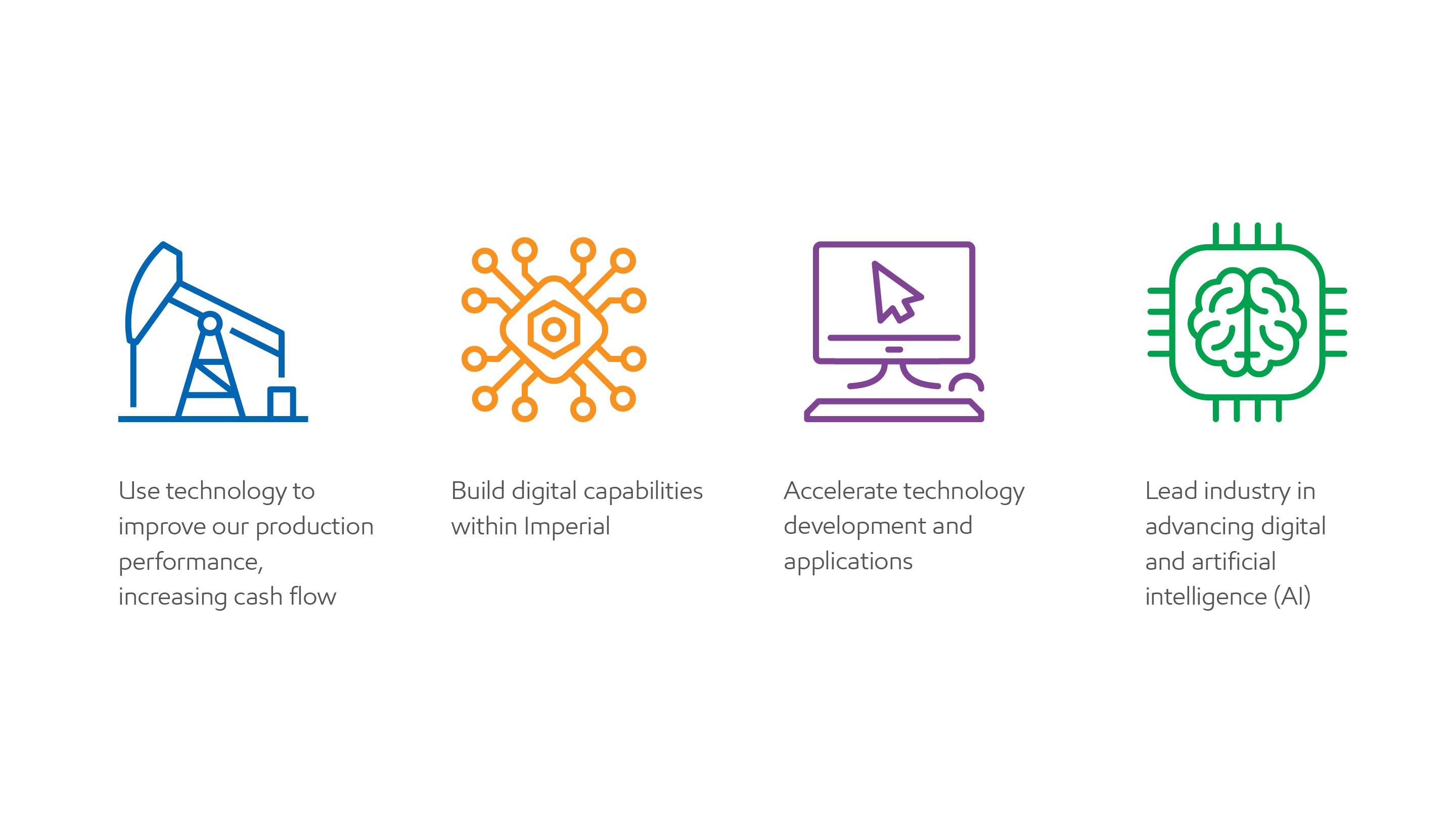 We are utilizing or exploring a number of cutting-edge technologies in order to accelerate value capture in our business:
Big data analytics
Cloud computing/storage
Collaborative technology platforms
Real-time communications and tracking
Mobile connectivity and augmented reality
Sensors
3D scanning
Virtual reality
Additive manufacturing
Unmanned vehicles
Robotics and automation
spotlight
Uncovering opportunities for better production
One common technique to recover heavy-oil from our assets is injecting steam to help oil flow. Engineers are always finding ways to recover more oil by optimizing steam injection across thousands of wells.
The variability of rock and oil properties across the field affects the efficiency of steam injection and oil recovery. Moreover, these properties change over time as oil is recovered. Operating decisions are based on first principle engineering models, which are time consuming to build and calibrate.
We are using machine learning (XGBoost) to model the oil recovery across the field given several input parameters, including injection rates and oil production. XGBoost, along with optimization algorithms, provide operating recommendations on a continuous basis to improve recovery. The resulting algorithms have been deployed to the field and early tests show promising results. Also, site personnel appreciate ease of use of the tool, the real-time view of the inputs and predicted rate estimates.
We recently partnered with the Alberta Machine Intelligence Institute (Amii) to collaborate on the development of our in-house machine learning capabilities, which will enable a range of applied artificial intelligence (AI) projects. Through these projects, we will work to develop more effective ways to recover oil and gas resources, reduce environmental impacts and improve the safety of its workforce.
Digital and technology move at an incredibly fast pace. To ensure we don't get left in the dust, we have implemented agile ways of working within the digital accelerator and utilize an iterative approach to work with the business and improve the product based on feedback.
Hear from our employees and management on the importance of digital