Downstream research
Since Imperial's Sarnia research centre was established in 1928, it has patented more than 700 products and processes.
We are also proud of the centre's role as advanced technical support lab for the global ExxonMobil and affiliates' lubricants and specialties business.
The Sarnia research centre chiefly supports our downstream operations by developing enhancements and solutions for issues from inhibiting rust and increasing efficiency and production quantity at our refineries, to making higher quality petroleum products.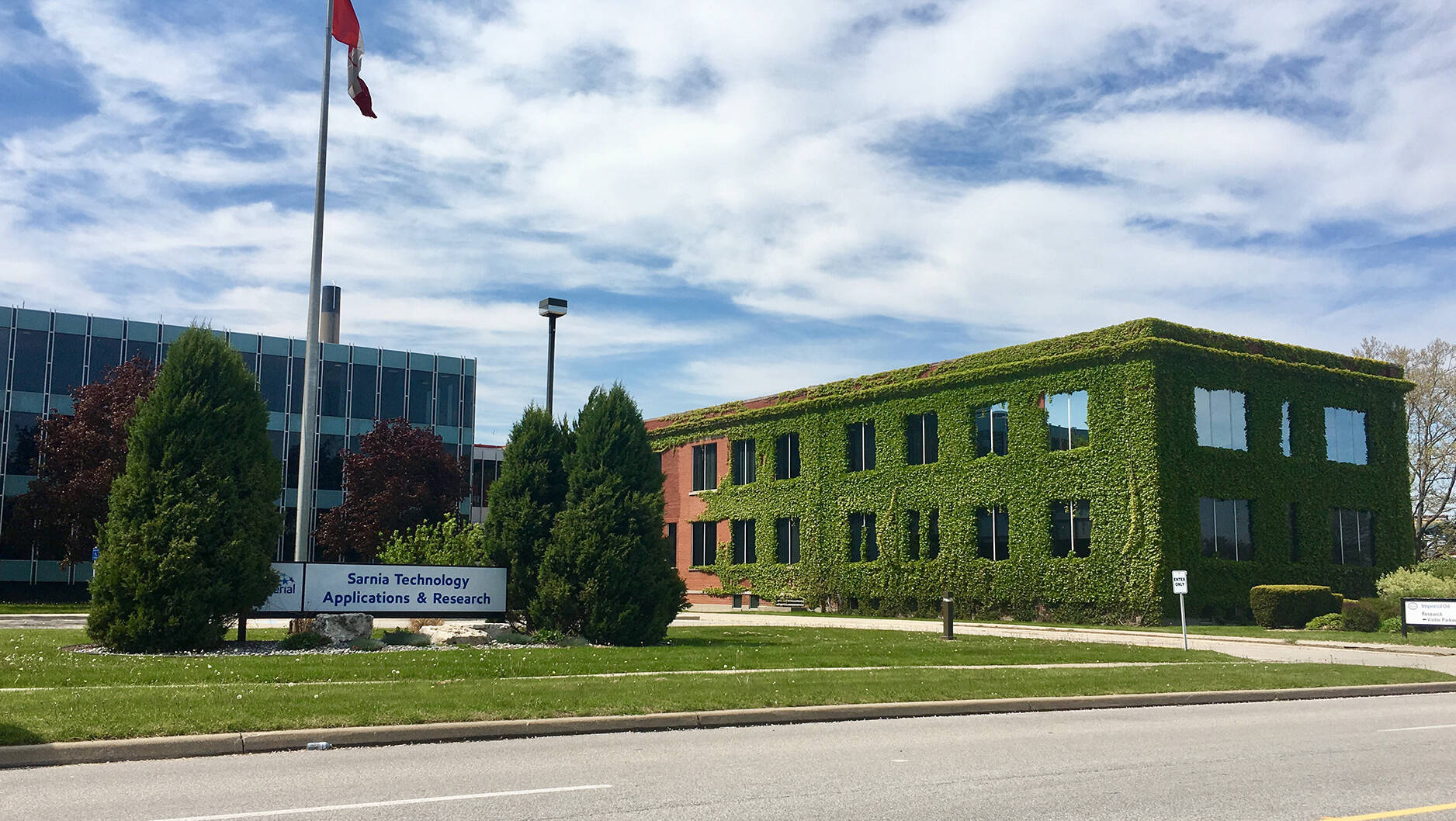 We're working to improve the safety and efficacy of petroleum products and their production for consumer and industrial use.
Recycling asphalt: Imperial is one of the largest suppliers of paving asphalts in Canada. Between 25 and 30 percent of the roads in Canada are surfaced with asphalts produced at our Strathcona and Nanticoke refineries. Historically, only small amounts of Recycled Asphalt Pavement (RAP) or millings of the old road surface were added to new pavement surface as pavement quality and durability could be impacted at higher recycling rates. Thanks to research by our scientists, the North American industry has been able to increase its commitment to the proportion of RAP in new pavements from 15 percent in 2009 to 21 percent in 2015. Higher rates of RAP benefit the environment and reduce overall road maintenance costs. RAP is now the most recycled product in the world -- even more than paper.
Improved heavy duty engine oil for Canadian climates: The Sarnia research centre introduced an improved version of Esso's XD-3 0W40 heavy-duty engine oil to operate in Canadian climate extremes, provide increased fuel economy and meet the requirements of advanced diesel engines.
Testing biofuels to meet Canadian climate extremes: We are also testing biofuels to confirm they will meet the rigours of the Canadian climate, and improving hydroprocessing technologies to maximize on-road ultra-low-sulphur diesel production.
Optimizing the life cycle of wax: Paraffin wax is one of many products produced from the refining of crude oil. Wax is commonly used in candles but can also be found in coatings for cheese, fruit and vegetables, drinking cup liners, crayons, adhesives for glue guns, cosmetics and pharmaceuticals, construction materials, waxed cardboard boxes and even chewing gum.
Globally, the volume of available wax molecules is significantly decreasing due to new refining techniques. At our Sarnia research centre we are working to optimize the entire life cycle of wax. With our refineries we're identifying opportunities to increase wax yields by increasing the oil content and using better processing aids, as well as experimenting with injecting stranded wax that is typically 'waste' or lower quality raw materials from the refining process.
We also work to create improved products. Recently we commercialized Waxrex 1280, a high oil paraffin wax used to make smooth candles. We conducted hundreds of tests to screen potential formulations and evaluated candle appearance and burn capability in a unique candle burning chamber that we designed here.