Living large at Kearl and beyond
It takes people with big hearts to tackle big projects, and Kathy Tuccaro has one of the largest. She gives her all behind the wheel of the biggest truck in the world as a heavy equipment operator at Imperial's Kearl oil sands operation.
When she's not at work, Tuccaro lives larger still – sharing her own story of decades of abuse then struggles with alcohol and finally recovery from a life of trauma to inspire and help others. At home in Edmonton, across Canada and the U.S., and even into the Caribbean, the native of Quebec gives free workshops or presentations at recovery homes, women's shelters, schools and youth centres, and even prisons.
"I do it for free because it's about the message – letting people know that it's possible to change your life, and that you deserve it," Tuccaro says.
Tuccaro has written a book, Dream Big, chronicling her amazing journey from darkness into light. She's following that up with a workbook to help women take steps in their recovery. "Empower one woman and just watch the ripple effect on her children and her community," she says.
One program that initially helped the now 48-year-old was Women Building Futures (WBF), an organization funded in part by Imperial, that prepares women for economically prosperous careers in industries where women have historically been under-represented.
"I never would have thought I would one day be driving the biggest truck in the world. WBF gave me the confidence to realize I can do that, and so much more," Tuccaro says.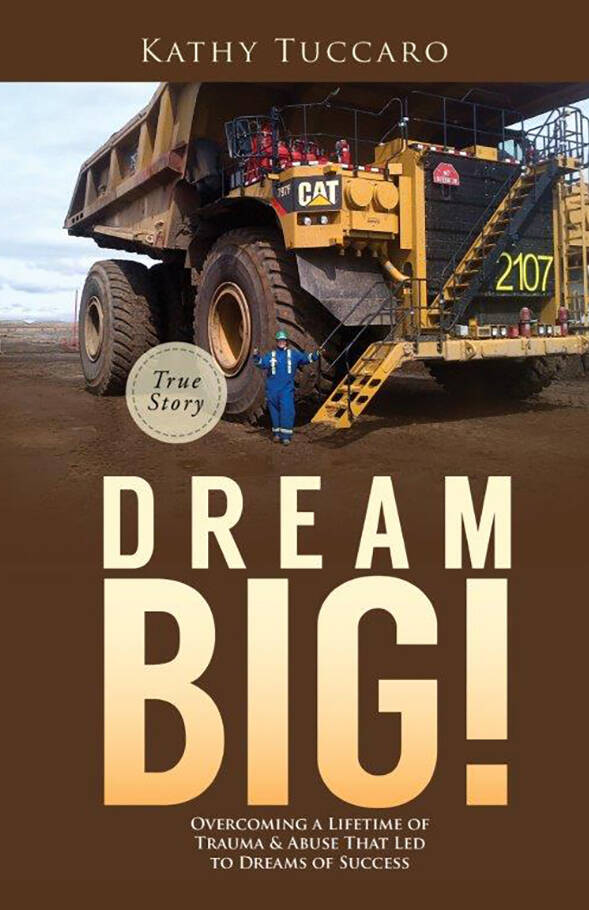 More, indeed. A typical day includes waking as early as 3 a.m. to plan her next speaking event, work on her foundation website, advance the Dream Big workbook, or connect with others to get her message out.
Then it's a 12-hour shift in the 385-ton (345 metric tonne), 797F Caterpillar or 208,000-litre water truck. The work demands focus and is physically and mentally challenging. On breaks she likes to meditate to relax, or may squeeze in a power nap to re-energize herself.
"My ultimate dream is to use my story and my experience to provide mental health and wellness support in the workplace. People have all this stuff going on and they're stressed. Who's helping them?"
Tuccaro is a passionate believer that educating and supporting people to deal with life issues can reduce risks in the workplace associated with lack of focus resulting from stress.
Self-esteem and education aren't the only things that may stand in the way of someone changing their life for the better. And Tuccaro is there to help. In 2014, three months into her job at Kearl, she started a work boot recycling program that has expanded to include hard hats, and has enabled 2,000 new starts in life.
You might think someone so busy is in need of a vacation. But even a holiday is an opportunity for Tuccaro to share her message and expand her work. Tuccaro's first vacation in years was to visit a fellow author and abuse survivor in Grenada. But she wasn't content to just lie on the beach. She arranged to speak at a women's centre, a juvenile detention center, a few schools, and was interviewed by local media to help raise awareness on child sexual abuse.
In advance of the trip she collected five suitcases full of school supplies identified by her hosts as most needed. "I got Grenada's Ministry of Social Housing and Development to agree to cover all the duty and import taxes, but I'm still working to find the funds to ship them there."
Her success in Grenada led to a request to replicate those efforts in nearby Barbados, a trip Tuccaro completed with her daughter in early 2018.
For the future, Tuccaro is hoping sales of Dream Big will help to open a women's shelter and orphanage on the tiny island of Grenada where need is great.
And… there will be more. Tuccaro is as driven as she is passionate, with enough new ideas for ways to help to fill the largest truck in the world.