Imperial has been a committed partner to Bow Valley College in Calgary since 2007, providing $125,000 to its unique Cultural Elder Program (CEP). This program not only gives Indigenous students the opportunity to connect and receive mentorship from elders, but also plays a role in teaching new Canadians about Indigenous history.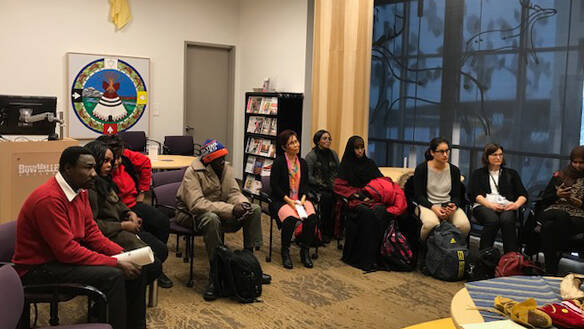 The Truth and Reconciliation Commission refers to new Canadians as an audience for learning about Indigenous culture, history and perspectives. In the CEP, Indigenous, as well as new Canadian students, participate in interactive learning sessions with the program's elders. Elder Florence Kelly, a residential school survivor, recently shared her life's journey with a group of students, describing her culture and way of life.
Inspired by her stories and experiences, students wrote thank you letters to Florence. Many mentioned that Florence had talked about things that were similar to their own culture, like the role of grandparents in the upbringing of children, oral tradition, storytelling and the use of drums.
"I appreciate that you spoke about the Creator. I appreciate everything you shared about this because my ancestors also had the same belief," wrote one of the students. "In your beautiful presentation, I remembered fondly about my culture."
Imperial is proud to support a program that encourages students and elders to exchange meaningful dialogue, and to gain a greater understanding of the rich histories of Indigenous cultures in Canada.