Safety and health programs
We help keep our neighbours and workforce safe by operating within rigorous operating protocols and applicable regulations.
Safety and health programs
Safety and health programs
Our Operations Integrity Management System (OIMS) is our foundation for managing risks to people and the environment, and achieving excellence in performance. Since OIMS began in 1992, our SSH&E performance has improved substantially. Imperial's safety performance is among the best in the Canadian energy industry.

The OIMS framework is used consistently across Imperial. It encourages the sharing of best practices and assists us as an organization in meeting our objectives.The metrics we track and report demonstrate how effective our management systems are at guiding our performance. Our management systems enable us to comply with new regulations efficiently, providing us with a competitive advantage.

We believe this approach drives us closer to our vision of a workplace where "Nobody Gets Hurt," where "Security is Everybody's Business," and where our environmental performance meets our expectations to "Protect Tomorrow. Today."
Community & workforce safety – emergency preparedness
Community safety
We help keep our neighbours safe by operating within rigorous operating protocols and applicable regulations.

In the event of an emergency, our operating facilities have well-defined plans, trained personnel in place and access to equipment to respond immediately to any incident. We conduct hundreds of simulated emergencies each year to ensure a constant state of readiness and emergency response capability. These range from fire drills and equipment and personnel tests at local operating sites, to computer-simulation exercises, and full-scale, "catastrophic" simulations lasting two to three days.


What it means when you hear testing of our alarms
Each operating site has an emergency warning system consisting of a series of air horn alarms to alert our personnel of potential emergencies at the site. These alarms are tested weekly, usually on the same day and time each week.

Unless instructed otherwise, here are some guidelines to follow during an emergency in the community:
Go or stay indoors.
Tune into the radio, community information telephone lines or our company website/Facebook pages (where available) for further instructions and until the official "all clear" has been issued.
Do not attempt to bring your children home if they are in school or daycare. School and daycare personnel are responsible for maintaining proper procedures to protect children in their care.
Don't tie up the phone lines. Use the telephone only if you are reporting an emergency.
Workforce safety
Protecting the safety and health of our workforce is fundamental to our business. We are relentless in our pursuit of safety so every employee and contractor comes home from work each day safe and healthy. We will never stop working toward our goal of Nobody Gets Hurt.

All of our employees and third-party contractors have the responsibility to work safely, regardless of job function. To prevent serious injuries, there is an elevated focus on "life-saving" practices for work activities that have the potential for serious injuries if not done properly. Examples include lifting heavy loads, operating equipment and working with electrical power or at elevated heights.

When a safety incident or near miss occurs, we investigate the incident and all potential outcomes, and evaluate barriers required to avoid future occurrences. This analysis helps improve our work processes and practices.

As part of our commitment to continuous improvement, we look at leading indicators that could help with risk prevention and mitigation to reduce incidents further.

We believe that all safety incidents are preventable. We promote and maintain a work environment where each of us accepts responsibility for our own safety and that of our co-workers, and where workers intervene as necessary.
Security
Ensuring the security of our people, physical assets and intellectual property is deeply embedded in our daily operations. We have developed consistent security practices and preparedness plans, and have trained site-security contacts to meet challenges in the diverse locations where we do business.

We regularly participate in government and industry forums to enhance our knowledge, skills and technical security applications, and have ongoing awareness and training programs to reinforce safe computing behaviors with our workforce to guard against cybersecurity threats.
Process safety
Our position as a safety leader includes diligent management of process safety: equipment, procedures, maintenance and training that prevent the uncontrolled release of hydrocarbons and hazardous substances. We employ multiple layers of protection, or barriers, to help prevent a loss of containment.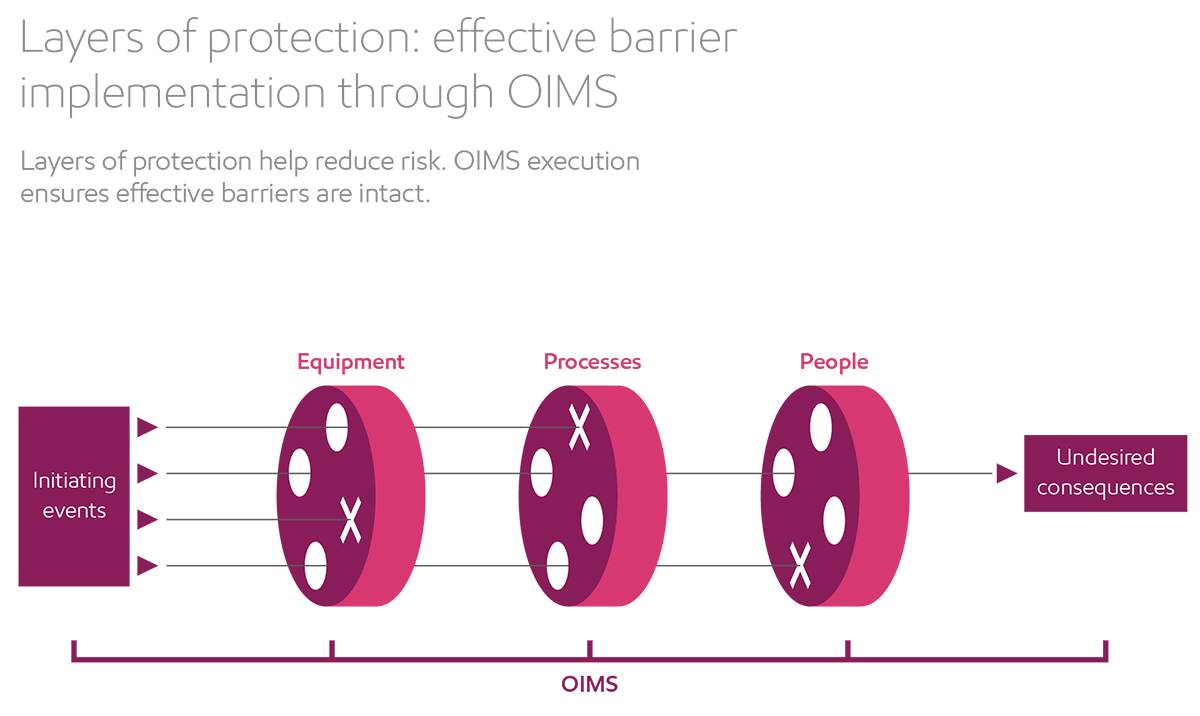 Product safety
We identify and evaluate risks associated with new and modified products and their manufacture, use and disposal. Similarly, new technologies are continually adapted to improve product performance. Product safety and health hazard information are also monitored, and any risks requiring specific management processes are communicated to customers, third parties and the public.

Due to the evolving nature of regulatory requirements, we continually monitor developments to ensure our products comply with regulations, including the United Nations Globally Harmonized System of Classification and Labelling of Chemicals (GHS).
Health and wellness
Imperial cares about the health and well-being of our employees and their families. We take all health issues seriously, whether work-related or not. Our goal is for our employees to be healthy throughout their careers and in retirement.

At Imperial's health centres across the country, our occupational health professionals – physicians, nurses and industrial hygienists – provide advice on promoting a safe and healthy workplace and respond to individual health concerns.

We also offer support programs and services to help employees prevent, identify and manage personal and workplace illnesses. These programs include:
Tracking potential workplace health risks
Providing the latest in hearing protection and practices
Monitoring worker health in the field
Focusing on the personal health of employees (awareness and education)
Employee Assistance Program (EAP)
Supporting community health studies
Policies: Safety and health
Imperial complies with all applicable laws and regulations, and where laws and regulations do not exist, we maintain the use of our high standards. Our commitment to high ethical standards, legal compliance, and integrity is reflected in our policies and practices.