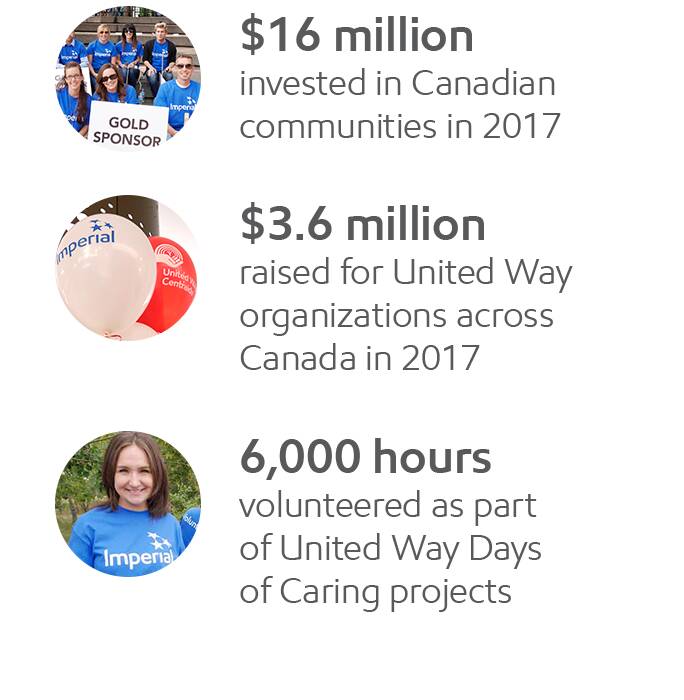 While Imperial provides the essentials needed to help fuel our global economy, our role as a leading energy producer begins in the Canadian communities where we live and work. Our investments in community-driven organizations and initiatives represent a shared commitment to improving the quality of life in the areas where we operate.
Learn more about the areas of focus that guide our giving and community engagement below.
Innovation and sustainability
Our goal is to inspire creative thinking. We seek partners who are:
driving innovation in trades, technology and workforce skill development
solving energy challenges in new ways. What do we mean by that? Addressing the risks of climate change and making environmental improvements in

carbon footprint – GHG emission intensity reductions, clean fuels, energy efficiency and monitoring
water – protection, conservation and sustainable solutions
land – wildlife monitoring and protection and land reclamation
Together we want to continue to uncover the potential of Canada's energy resources and invest in Canada's future leaders.
Our programs
Read our stories:
For programs seeking funding support from Imperial, Apply today
Indigenous leadership and capacity building
We are committed to creating lasting relationships around a common vision for progress. We support mutually beneficial investments focused on:
supporting women and youth leadership
building workforce and business capacity
expanding access to traditional learning
Our programs
Read our stories:
Indigenous Women in Community Leadership program
Bow Valley College
For Indigenous programs seeking funding support from Imperial, Apply today
Strong operating communities
Imperial is focused on solutions to strengthen communities. We believe in addressing local social needs to build strong, safe and prosperous communities. We invest in opportunities that deliver shared value by:
providing innovative experiences to youth
improving access to education in science, technology, engineering and math
fostering environmental conservation and protection
improving quality of life
In 2017 we invested $16 million and volunteered 6,000 hours in Canadian communities.
Read our stories:
For programs in one of our operating communities seeking funding support from Imperial, Apply today